The Bluesfest folks have just released this year's lineup, and there are a few acts I'm dying to see. Cat Power is definitely on my must-see list. After last year's show, so is Alejandro Escovedo. Built to Spill is another biggy. I want to see White Stripes as well, though I'm sure the main stage will be a zoo. Ottawa audiences well know the power of Sharon Jones and the Dap-Kings to rock the house; I'm sure the turnout for that show will be great. I'm keen to see Spiral Beach again after their dynamite Mavericks show last year, too.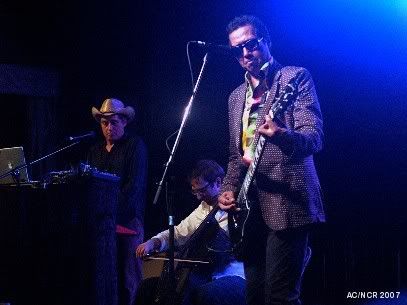 Alejandro Escovedo at Ottawa Bluesfest, July 14, 2006
Among the - ahem - older acts on the bill, I have to say the one I'm keenest to see is Randy Newman. Bob Dylan is the obvious big name, but after the critical savaging his last show I'm not sure I want to bear witness. The Flatlanders might be good (depending on Jimmie Day Gilmore's propensity to talk). George Clinton, too. I think I'll pass on INXS, though.