I'm going to forgo posting a few samples from my small reserve of Ragni photos due to time constraints, and instead deliver yet another helping from ancient days: To be precise, a performance by Saturday Looks Good To Me, Oct. 19, 2004. I few of these pictures have seen the light of day over at pennyblackmusic.com, accompanying
a review of that show
by yours truly, and
I posted another
back in the (very) early days of National Capital Rock.
Ringleader Fred Thomas also featured in the similarly super Flashpapr.
The first time I saw SLGTM, it was Fred Thomas, saxophonist Eliot Bergman and drummer Steve Middlekauff. This time around they brought along Betty Marie Barnes to sing the female parts.
Betty Marie and Elliot.
They also rounded out their sound with bassist Scott DeRoche - and full-time keyboardist Scott Sellwood.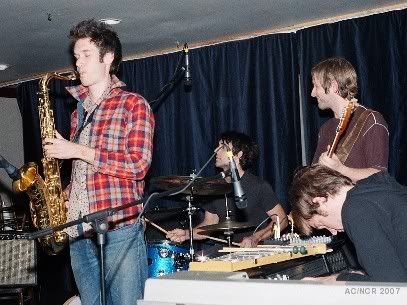 At the time of the show I remember thinking Scott Sellwood could be a long lost
Sproull cousin
.
As you can see these pictures were all taken before I realized that getting in as little as possible of Irene's ceiling was a good thing.
I went out to Irene's patio to see if I could snap a decent photo through the window that looks in on the stage. Not really.
Daily action!
The band has been through a few lineup changes since then - I think Fred is the only remaining full-time member (which I gather is more or less the way he's always operated). They have a new album in the works, apparently due in September 2007 on K Records. Hopefully they'll head north again then, if not sooner.