Since The Wedding Present show was looking a bit iffy (as far as I can tell, the only people claiming it existed was Pollstar) I went over to Zaphod Beeblebrox to see Octoberman and The Fembots on the second day of their big joint tour. I've seen and enjoyed both acts before, but some time ago. Both acts seem to have amplified things a bit in the intervening months and years.
Last time I saw Marc Morissette - the heart of Octoberman - he was playing mostly solo at The Rainbow in January 2007 with some support from fellow White Whale recording artists Poorfolk. This time around he was accompanied by C.L. McLaughlin on guitar and The Fembots' rhythm section: Nathan Lawr on drums and Tavo Diaz on bass. The Ottawa audience was also treated to some trumpet courtesy of Shaun Brodie, who is now off to tour with bands "he likes more than us." The band recorded with Dave Draves at Little Bullhorn and described the results as "different in a more live/raw/noisy/moody/choppy way." They finished with a cover of Bruce Springsteen's
I'm On Fire
.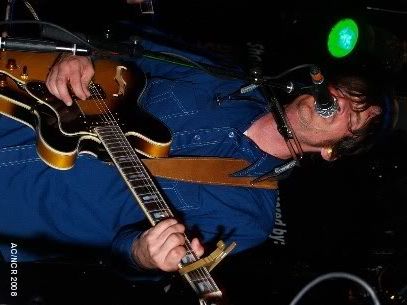 Octoberman, Zaphod Beeblebrox, October 4, 2008
The Fembots are also noisier and rockier. Unlike previous shows where I saw them (all before I started blogging, as far as I can tell), they stood up, except when piano duties demanded otherwise of Dave MacKinnon. They also have a bass player (Tavo Diaz, that is) instead of violinist and melodica player Julie Penner accompanying Dave, Brian Poirier and someone on drums.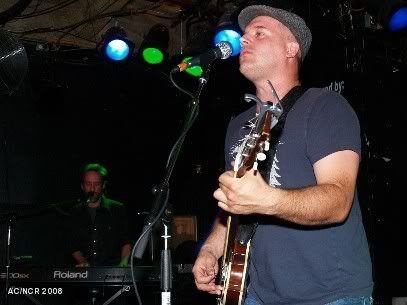 Fembots , Zaphod Beeblebrox, October 4, 2008
I think I preferred the effect of extra rock on Octoberman's makeup, more than I did on The Fembots, but both bands had very solid sets.