There have been a lot of bands coming through Ottawa from faraway places: No doubt Pop Montreal is to blame. Both
Neins Circa
and
Young and Sexy
, the bands performing last night at Zaphod's come from Vancouver. Unfortunately, as on previous occasions the audience turnout was meagre.
Cameron Dilworth - still sporting his Pop Montreal bracelet - has been the one constant in the Neins Circa. He was joined by Shaun Brodie (an early member who you may recall being mentioned in the last post - he was playing trumpet again tonight), Erin Jane on keyboards and bass and Sean Gilhooly on drums. Paul Pittmann and Andre Lagace from Young and Sexy also kicked in on guitar and bass. The band had a slightly quirky pop sound - Dilworth strikes me as a man with a dry sense of humour.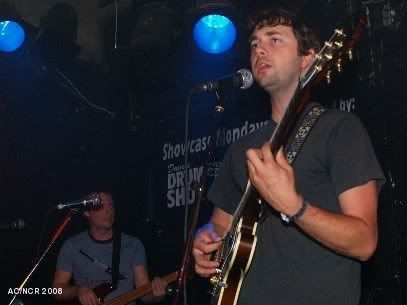 Neins Circa, Zaphod Beeblebrox, October 5, 2008
Last time I saw Young and Sexy - also at Zaphod's - their performance left a little to be desired (mostly due to out-of-tune guitars). They must have gotten those promised guitar tuners for Christmas, because this time around they were really super. I'm not sold on their new album, but all the tunes from
The Arc
sounded good in a live setting and such classics as
Life Through One Speaker
,
Oh My Love
and
Herculean Bellboy
sounded top-notch. They finished with a storming version of
Television
, and also threw in a fine version of Squeeze's
Pulling Mussels (From The Shell)
.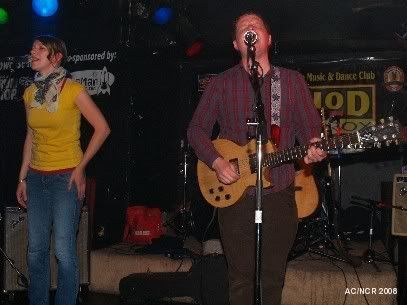 Young and Sexy, Zaphod Beeblebrox, October 5, 2008
Too bad for all the folks who missed it!