Band reunions are often sad affairs, at least for the audience. British legends Wire are an exception. They have earned themselves a good reputation for their live show, even 30 years after their initial rise to prominence, and have even eked out a couple of well-respected post-heyday albums. A decent-sized crowd turned out on Monday to see them in the flesh, and were not disappointed.
First up were local band
The Suppositories
, whose minimalist style fit in quite well with the headliners. Their set was really excellent, and a fair number of people bought a copy of the band's soon-to-be-officially released album,
Moments of Square Violence
, myself included. They appropriately ended their set with a tune called
Wired
.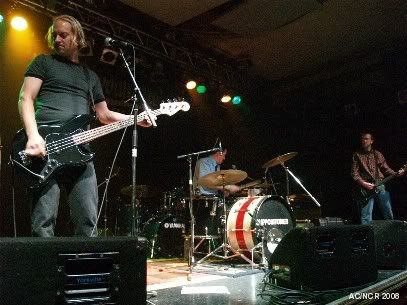 The Suppositories, Barrymore's, October 6, 2008
As for Wire, they played a dynamite set, and even came back for three encores. Even short founding member Bruce Gilbert they provided an exciting run through their catalogue, though I dare say at least one person was disappointed by the omission of
I Am The Fly
.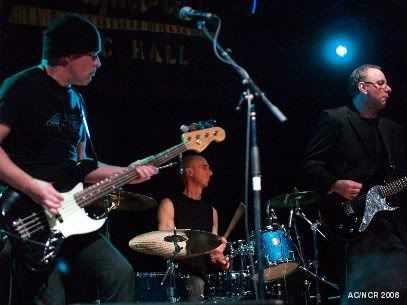 Wire, Barrymore's, October 6, 2008
Graham Lewis, Richard Gotobed and Colin Newman are joined live by well-known guitarist Margaret Fiedler-McGinnis (who incidentally founded one of my favourite bands, Laika). They started at 10:30 and finished up past midnight - that's a lot of minute-and-a-half songs ...