The Felines
are a band I've been waiting a while to catch. Unfortunately, every time they've got a show booked something else has pushed them off my calendar. That all changed last night, where I caught the stripey quartet opening for Vancougar, Statues and Malcolm Bauld with Horses.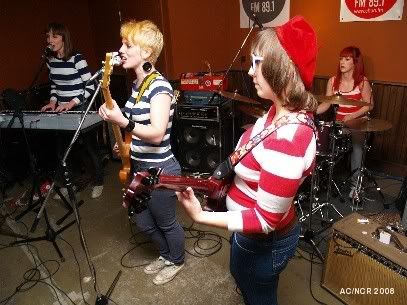 The Felines, Bytown Tavern, October 21, 2008
You may recognize some familiar faces from the scene, I'm sure guitarist Ilona Spo-dee-o-dee has shown up in a crowd or two, and drummer Allie Hanlon ... er, I mean El Maraschino ... has of course served in Captain Foxy and The White Wires. Bassist Momo and keyboardist Steel Rose round out the combo, which kicked things off with a cover of The Cramps'
Human Fly
. Lo-fi surf and garage rock is the order of the day: There were also covers of
Shake, Rattle and Roll
and
The Witch
- dedicated to a band pal and birthday gal.
Next up was Malcolm Bauld. I've seen the former Frenetics frontman before at Babylon, where he was backed on a few songs by The Details. He's continuing the tradition of folk-punk rock that seems more than a little influenced by Steve Earle, Bruce Springsteen and John Cougar Mellencamp. He skipped the solo stuff this time and rocked out with Horses, the band he's touring with now.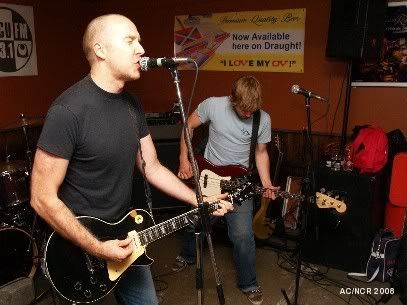 Malcolm Bauld, Bytown Tavern, October 21, 2008
Horses did a handful of songs themselves. Like Bauld they're influenced by that New Jersey blue collar rock, and finished things off with a cover of
Darkness on The Edge of Town
.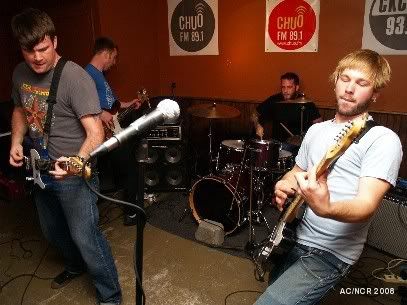 Horses, Bytown Tavern, October 21, 2008
I suspect the band that a lot of people were there to see was Sudbury mod-pop punks Statues. The trio features the two Houle brothers, Mitch and Jeff, who have also rolled through town as part of Varge and The Havocs. Rob Seaton is the third man, on guitar and vocals. There was a Buzzcocks cover, a Jam sound and every brisk and frisky pop punk band to the right of Joe Jackson.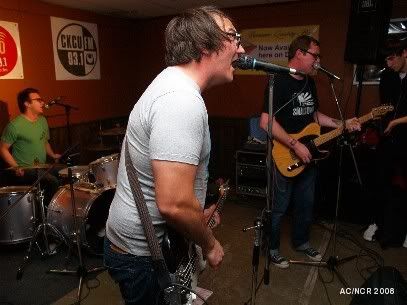 Statues, Bytown Tavern, October 21, 2008
Finally Vancouver's Vancougar finished things off. The quartet of guitarist and singer Eden Fineday, bassist Becca Stewart, keyboardist Megan Johnson and C.C. Rose (last seen on NCR playing drums and keys with Black Mountain at Barrymore's) turn out tuneful pop with a tough chaser in the vein of early Go-Gos and Bangles. Hmm, maybe I'll throw The Pretenders and The Pandoras in their as well.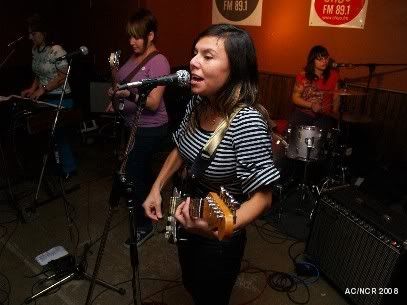 Vancougar, Bytown Tavern, October 21, 2008
Here's some extra Vancougar rock action!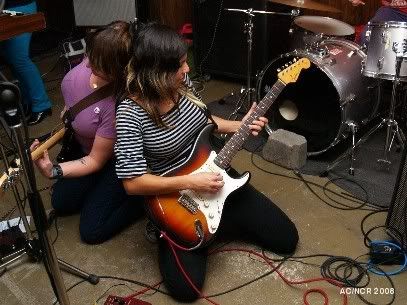 Vancougar, Bytown Tavern, October 21, 2008
There now headed down to the States for the U.S. leg of their North American tour. The Statues and Malcolm Bauld are headed to Quebec and parts east.