My Wednesday fun started with Guitar Explosion, which is the Paul Deslauriers Band with a couple of axemen welded on: Local blues dude Trevor Finlay and Jean-Sebastien Chouinard. Their electric blues doesn't stray too far from the hallowed path laid down by Stevie-Ray Vaughan, Johnny Winters and other fret-frying bluesmen, and after a half-dozen tunes I'd had my fill, but it was reasonably entertaining.
Paul.
I'd already seen a lot of Trevor Finlay around, since he was doing a lot of festival emcee work, but this was the first time where he had a guitar in his hands. And shirt. And tattooed on his arm.
J-S is shocked, shocked I tell you.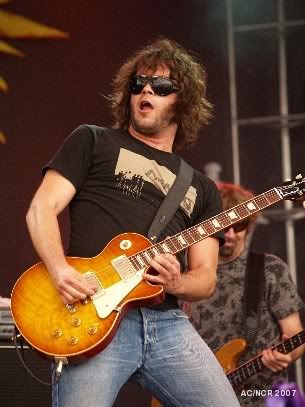 Bassist Greg Morency.
Grimacing Sam Harrisson action!
Explosive action!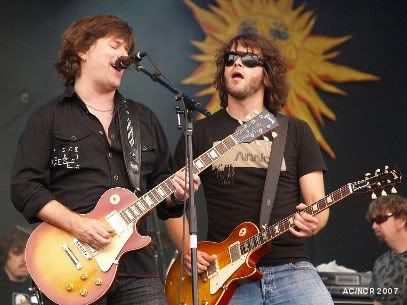 Those guitarists!
Guitar action!
The whole lot!
Trevor runs out of frets.
And so on!
I toodled off to get a good seat for Grady at the main stage - no doubt there were more theatrics for the folks who stayed.