I've been to some oddly matchups at venues around town. Last night was not one of them. Montreal's The Jet Five, The Sweet Janes and The Sick Fits all exude that 1970s Stones, Dolls and Stooges vibe, along with a few earlier and later rockers.
If The Ramones had preferred The Pretty Things to The Shangri-Las, they might have ended up sounding like The Jet Five.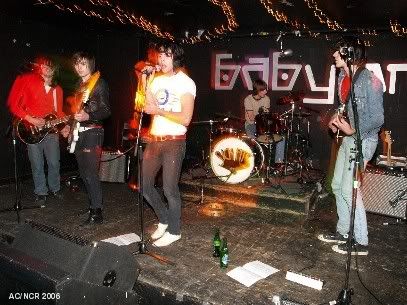 Grady Finch - non-deadbeat lover of punks - and new bass guy Jess Winchester.
The Sick Fits - or at least Michael, K.J. and a dimly visible Rocky.
They too have a new member (Preston Gunn on guitar). But you're just going to have to wait for pictures of him, because it's getting late ...