Despite working late on Friday, I resolved to make it to Babylon in time to at least catch Canadian living legends of psychedelic rock, Simply Saucer. I think I beat my best time by a good 10 minutes ... or perhaps Plastic Crimewave Sound went on a bit later than planned, because I caught a good chunk of their set as well. Yay!
Plastic potentate and Galactic Zookeeper supreme Steve Krakow wins best pants of the show.
Simply Saucer killed. That's original Saucer people Edgar Breau and Kevin Christoff below.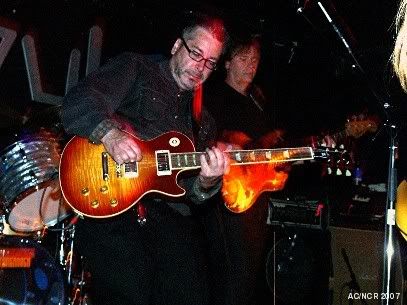 Now I'm off to sleep ... the show went on to about 1:45 a.m. I also promise future Saucer pictures from the show will be less cruddy.