Early afternoon and I'm pedaling my bike down Somerset - destination, Richmond Rd. and Westboro's annual shindig and funfest, complete with free music, lots of eats and sundry funky businesses hawking their wares. I went into
Retrotown
to ogle the guitars, and into the Mountain Equipment Co-op to see about replenishing my stock of bike gear (as did everyone else - I took one look at the lineup at the cash and left). My main interest, in any event, was to check out a couple of bands. I missed Ana Muira and
Marie-Josee Houle
(though M.J. did give me a copy of her super new CD,
Our Lady of Broken Souls
), but did see all of the Jupiter Ray Project and most of Slo' Tom before my busy schedule drew me away.
The JRP have a really sweet country sound. Pictured below are Jack Pelletier and Shannon Ross, two-thirds of the Project's regular lineup (bassist Chris Breitner will appear in a later post). They have a revolving cast of musicians helping them out; in this case drummer Peter von Althen (plus son Max) and fiddler Mike Ball (there in the middle) were on hand.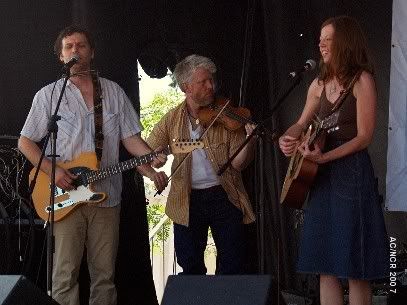 Slo' Tom, right, was backed up by The John Henrys, and freshly shorn by Patrick Shanks in what he termed "the German psychobilly look."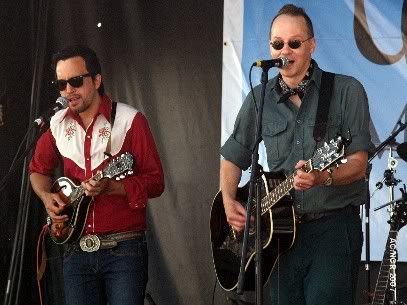 Oh, and that alleged Zoobombs show? I cruised by Babylon at 9:30 and to my lack of surprise, no one was around. I just hope they didn't show up after I left ...