Along comes Saturday, and like many other Ottawans I went off to my local drinking establishment. Unlike other Ottawans, It wasn't to watch Game 3 of the Stanley Cup finals, since the only viewing you're likely to get on Babylon's tiny TV are VHS tapes of
The Evil Dead
, Italian post-apocalyptic biker flicks and Bollywood films. The real action was on Babylon's stage, where Good2Go grabbed the opening slot for a show best short on audience but long on energy. At least enough folks showed up to help shake tambourines.
Gilles flies the Sens colours.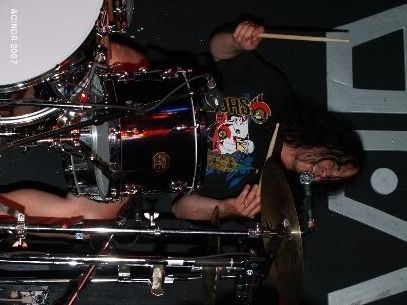 The whole lot. Well, not really, since keyboardist Glen isn't in the picture ... but you can see the corner of his Nord behind Reg so I'm counting him anyway.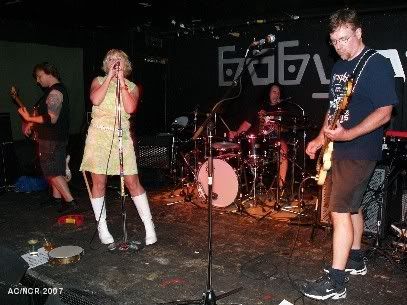 Glen and Nord.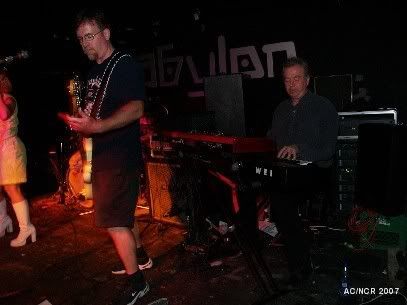 Christian wahs.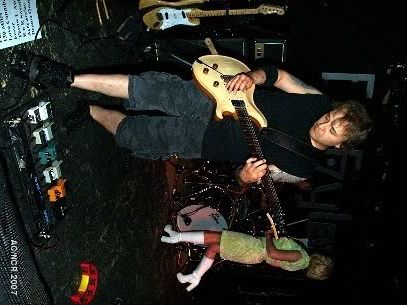 More Maureen.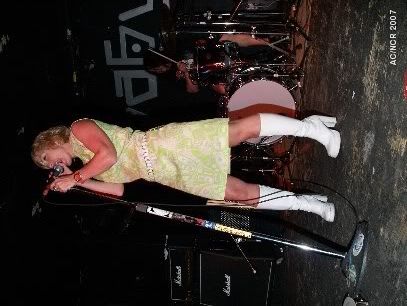 Singalong action!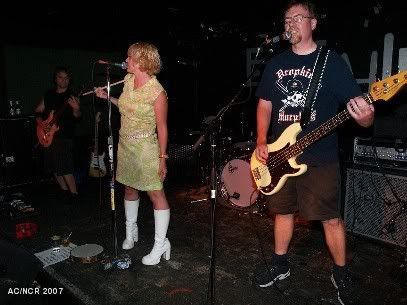 Angled action!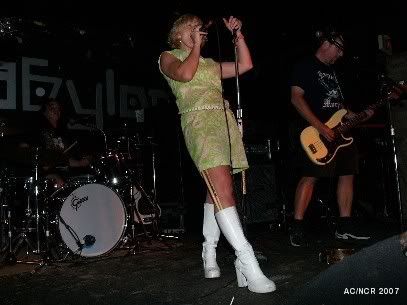 Etc.!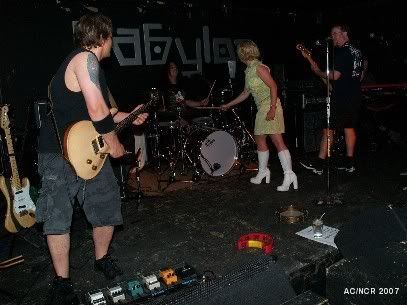 Big finish, as one of Gilles' cymbals escapes the picture.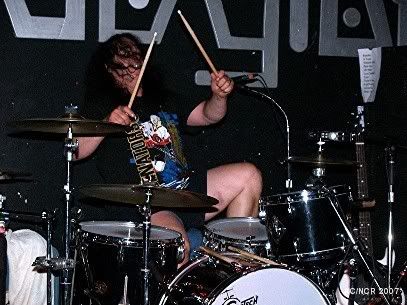 Their next record is off to be mastered shortly, so expect record release show type mutterings in the not-too-distant future.
Show reminder: It's an all ages kind of night as Woodpigeon, Entire Cities, Nich Worby and Eastborough perform at the Ecclesiax Gallery (On the corner of Monk and Fifth Ave., if I have my coordinates right - it's just off Bank St.); Mesrine, The Donner Party, Skunch, Bombed Out! and Conquering Valhalla play the A+A Speedshop; Kissy Face Fashion Faux Pas, Dysphoria, Hello Terror, Bastard Maker and Holding Onto Nothing perform at Cafe Dekcuf; Relief Maps, Ennuie and Secret Band Of Love perform at 59 Argyle; The Flatliners, Ceremonial Snips and The Dirty 30s rock End Hits. For the old geezers who can drink legally, Yo Majesty, Thunderheist, Lesbians On Ecstacy and Jokers Of The Scene perform at Babylon; You Say Party! We Say Die! and Lioness play Zaphod's.