Ottawa has been pretty good to
Matt Mays
- the local radio stations played his songs before just about anyone outside his homebase in the Maritimes, and I remember good crowds back when he was in The Guthries, and even a decent turnout for his first free showcase performance at Zaphod's several years ago. Now he's a pretty good draw - witness his two nights at Barrymore's - give it time and his songs will be backing beer and car ads. His sound has crept away from the Byrds-style stuff of The Guthries to more straight-ahead rock with his band El Torpedo, but that's oky with me. I like my classic rock as much as the next guy, and Mays and Co. deliver.
The man himself and his Gretsch White Falcon.
Bassist Andy Patel.
Guitarist Jay Smith - as before, an active presence on stage. (And a barely visible Tim Baker- once again, no good pictures of Tim ...).
Singalong action.
More Jay.
Torpedo action.
Back to back action!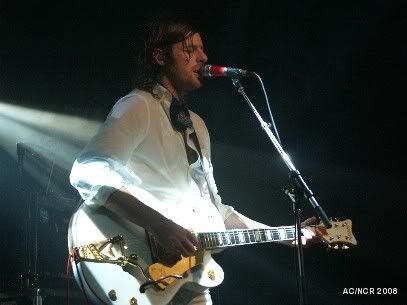 Feedback action!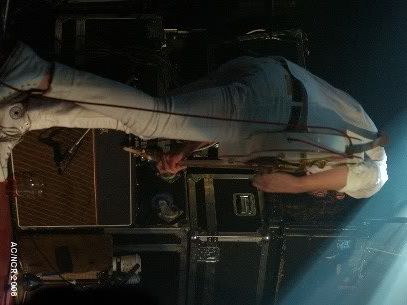 Guitar-raising action from keyboardist Rob Crowell (I think).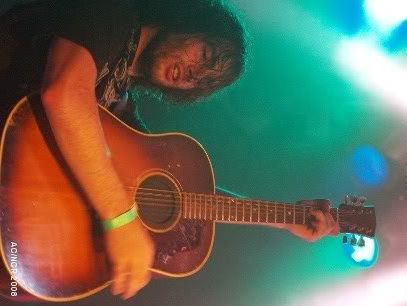 The crowd returns Smith.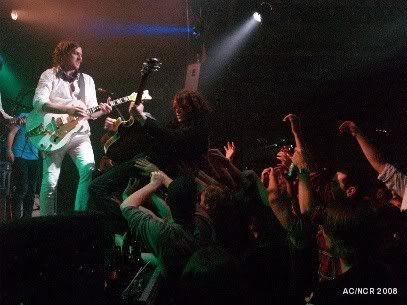 And a big-ol' get-together with The Arkells to finish things off.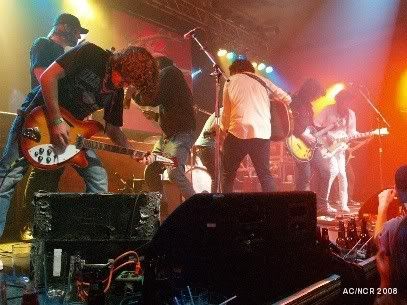 I've also since discovered the name of that Gordon Lightfoot tune:
Steel Rail Blues
. I knew it had something to do with trains ... As for Mays, he's off to the West Coast for a couple of gigs, then plays Halifax in January.