Off to the Bytown Tavern for some holiday cheer - or at least some holiday hardcore. It may not be my last show of the year (I hope to check out Good2Go New Year's Eve, and whatever this Rampage thing at the Rocker Room is on December 26), but it's certainly The Fucking Machines last show of the year - and possibly Critical Convictions as well. The two bands tore through their sets in front of a good-sized crowd. This wasn't the wildest show I've seen by either act, at least in terms of audience craziness - then again it's hard to mosh in winter boots.
Maxx roxks the microphone, while Jeff bundles up.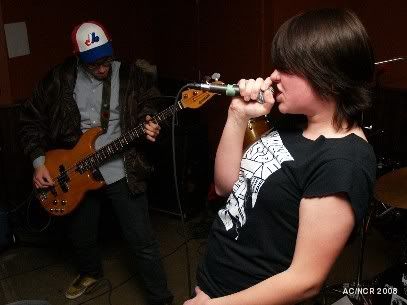 Critical Convictions, Bytown Tavern, December 23, 2008
Most of The Fucking Machines - guitarist Dave Jackson is probably wandering around in the audience.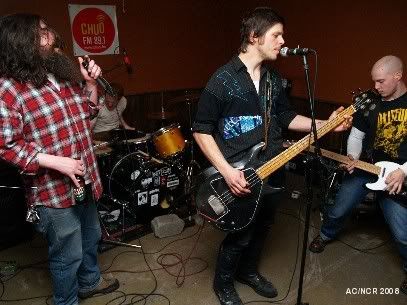 Fucking Machines, Bytown Tavern, December 23, 2008
"See you in June!" says Scott. It could be true ...