I popped over to see a couple of Montreal bands and a reasonably new local combo called Micarza Camaro. Headlining the show was The Receivers, known far and wide as "the band featuring a former member of The Dears." That wasn't really a big selling point with me, but I'd heard good things about both Micarza Camaro and Bad Flirt.
I was worried that I might have missed most of Micarza Camaro's set since I walked in the front door of Zaphod's while they were in mid-song, but as it emerged I had only skipped the first one. They got seriously heavy at points and I thought I detected flashes of The Wipers. They also made think a bit of Arboretum. Bassist Sebastien Dupont was also in F!ghtF!ghtF!ght and country rockers Crowded Skies.
Bad Flirt was another energetic bunch of alt-rockers. They appeared to be missing their bassist for this show. The band they remind me most of is Spiral Beach, though the spooky-kooky quotient is lower. They really worked it on stage despite saying they were all sick. "Some of us have malaria" complained keyboardist Evan Dubinsky. That's why it's important to bring your netting when you're touring during Canada's November mosquito season. That's gal guitarist Jasamine White-Gluz and Laura Lloyd rocking out below (as is drummer Raf De La Durantaye, just visible in back).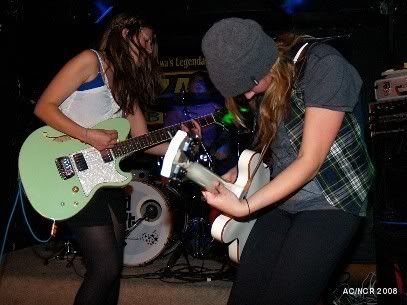 After the high-energy offerings of Micarzo Camaro and Bad Flirt,
Receivers
struck me as a bit lacklustre. They're definitely pop, not rock - moody pop at that. I can see how the various elements could work well together. You've got a moderately sultry, sometimes jazzy singer in Emilie Marzinotto, a guitarist with a good line in Calexico-ish reverb and tremolo - that would be former Dear Joseph Donovan - atmospheric keyboards from Jake Zapotoczny (last seen in these parts with Ragni) and a good rhythm section in drummer (and Ottawa native) Ramsay Jackson and bassist Howard Martin. On record they sound super, but live there just wasn't enough going on melodically to hold my interest.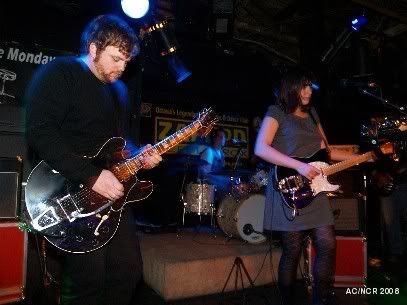 The funny thing is, as Donovan was showing off his moves my memory immediately dredged up the spectre of Marlowe. Further research reminded me that I saw them opening for The Organ on June 13, 2004, and lo and behold it turns up that was when I saw him (and Martin, also a Marlowe vet) last. I didn't fancy that band either. Next time I'll have to try to see Receivers in the company of more low-key openers.