I love the
Brutal Knights
. They're a lot of fun, and their idiot savant humour is something that we really don't see enough of in the hardcore punk rock scene. I'd heard the band sometimes wore costumes for shows, but they skipped out on the fancy dress on the previous occasions I've seen them at The Dominion and Barrymore's. Not so this time, where they really went the extra mile ... well, except for Nick who just wore a wig.
Those Knights. And a very inconvenient pole hiding Katie G. Warrior and drummer John Powers. I still don't know who their new bassist is.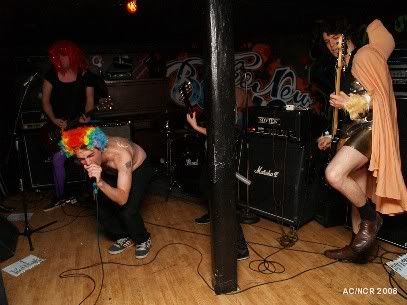 I think Nick had something written on his chest in gel, but whatever it was it's illegible now.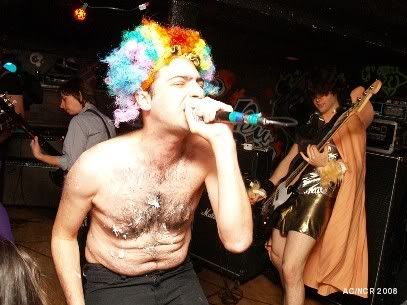 There goes the wig.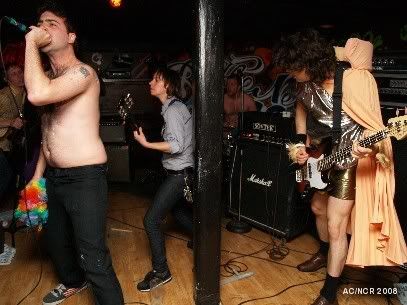 Nick bending action!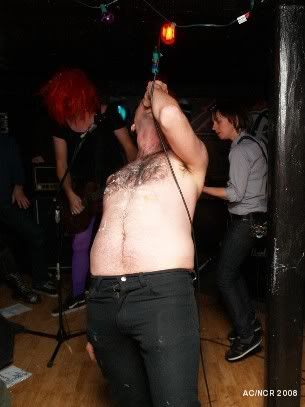 The crowd was into it, of course.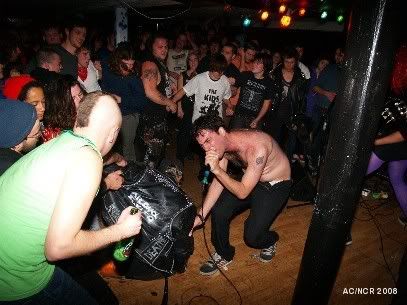 John rocks the Speedo.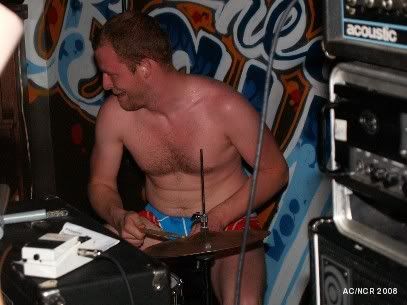 Nick sheds his pants.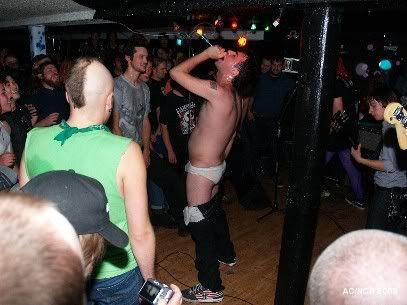 Pole-hugging action! I'm glad someone likes it.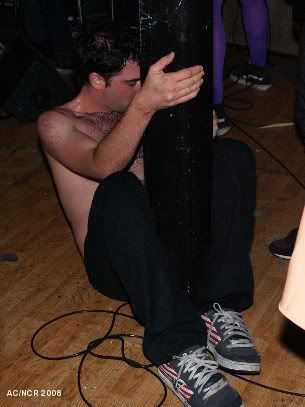 Big finish!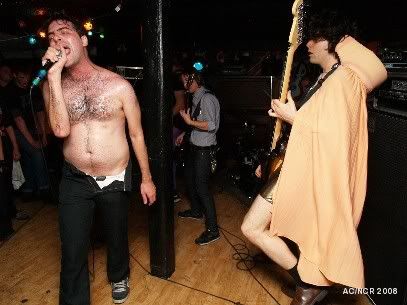 For some reason they played Miami, Florida last night. No other word on upcoming shows, but I'm sure they'll be playing here sometime.
Show reminder: There's mass punkitude at the Bronson Centre with Take One For The Team, Germ Attak!, FATO, The Visitors, The Donner Party, The Valveenus, The Dirty Nuns and H.O.P.E The Dirty 30's, Corporation, The Living Sound System, The Toughtones and Shot By Jack play The Bayou. The King Khan & BBQ Show, Golden Triangle and Mothers Children play Babylon. The Uncooperatives and Lords of Vanier unleash their new albums at the Dominion Tavern. The Brothers Chaffey perform at Irene's.