There's only one way to describe The Monotonix live show: Unadulterated craziness. Although some people have said they enjoy The Monotonix' EP on Drag City, almost nothing about this show appealed directly to my taste music; it's all about loopy wildman singer Ami Shalev and his kooky co-conspirators.
Them Monotonix: Hirsute singer Ami, skirt-wearing drummer Ran Shimoni and 'fro-rocking guitarist Yonatan Gat.
Many singers climb on the drum kit. Ami goes one better by climbing on the drummer.
Yonatan looms.
Ami surfs.
Great big pile!
Trash time.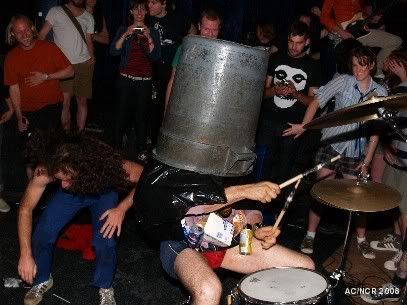 Jump!
Ami plays some drums ... which just happen to be balancing on the head of Ran, possibly Rock's most long-suffering drummer.
A refreshing drink at the bar.
After that the band dragged bits of the drumkit out the door and took it to the streets.
Time to hang out a while.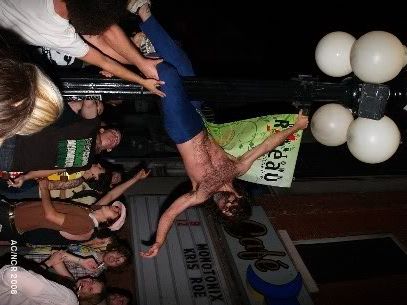 Then they ran off for the drum-pounding finale.
Shhhhh! "Thank you."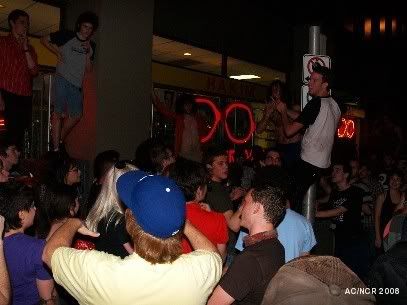 That was pretty silly and not hugely musical, but a lot of fun. I was chatting with Creeps frontman Skottie Lobotomy a few days later and he noted the smiles on the faces of the crowd in all the photos he'd seen of the show.