I went to Barymore's last night to check out the
Ship Shapes
(the half of The Grass which didn't return to the Maritimes), The Flaps - who I haven't see recently due to scheduling conflicts and the fact guitarist Pat has been off in Thailand for about a year - The Brothers Chaffey, who I saw at Bluesfest just over a month ago and never mind seeing again, and The Brothers - who used to be the Watters Brothers and the Watters Brothers Rebellion, and who I felt I should see again before they changed their name to Bro. Anyway, I missed Ship Shapes (if indeed they played), but did see all of The Flaps. Drummer Jamie told me they would be playing older stuff since Pat's absence meant they didn't have a chance to work out newer material. There were still a few songs I didn't recognize, so it really has been a long time since I've seen them!
Those Flaps, not including Jon Higney, off to the right playing guitar, keys and steel.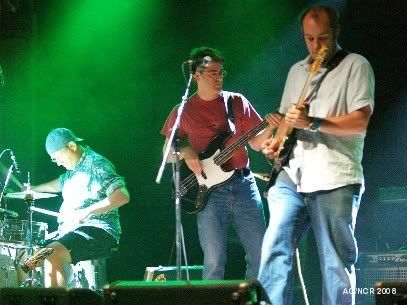 The Flaps, Barrymore's, August 16, 2008
The Brothers Chaffey put on another excellent set with their Bluesfest lineup. Matthew put down the guitar for a good part of the set to concentrate on singing. They showed off a lot of new material.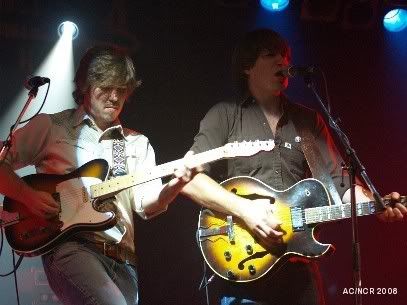 Brothers Chaffey, Barrymore's, August 16, 2008
The Brothers finished things off with their bouncy funk pop. They mostly performed as a duo, though dad Pat did join them on bass for a few blues numbers along with a harmonica player whose name is either Ben or Mike (you can tell I was listening closely). Next up - a slot in the Big Money Shot competition at Live Lounge Aug. 22.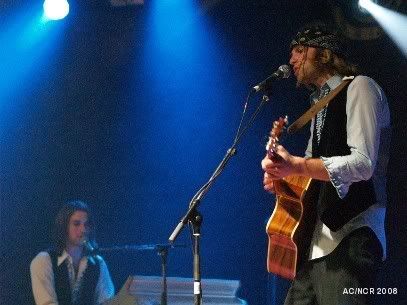 Brothers, Barrymore's, August 16, 2008
Now what they need is a show with the Barmitzvah Brothers as openers ...