There were two shows I thought I might like to see at Bluesfest last night: Jim Bryson and Brian Wilson. I nixed the latter on grounds that I can't seem to enjoy any show with a huge crowd. I figured I'll have another chance to catch Bryson (though his set last night was by all accounts dynamite). Instead I headed downtown to Mavericks for the Fuck Yeah Tour's Ottawa stop. The idea was to combine art, comedy and music. I didn't notice much in the way of art, but they did have a comedian, Chicagoan and pigeon-hater Hannibal Buress. He took the mickey out of fonts, capri-pant wearing men and poorly disciplined babies. The crowd ate it up.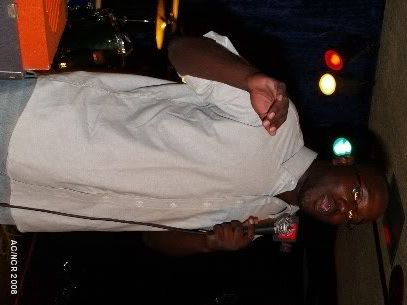 Hannibal Buress, Mavericks, July 9, 2008
First local punk rockers The Sedatives tore through six songs of organ-flavoured 77-style punk rock. I think they rocked much harder than when I saw them at the Rock'n'Roll Pizza Party a while back - that may be because of the superior sound provided by soundman Ben, who had his work cut out for him.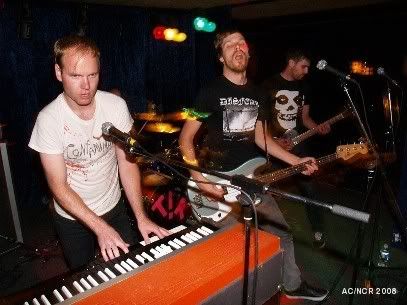 The Sedatives, Mavericks, July 9, 2008
Team Robespierre moved all their gear to the floor, a modus operandi imitated by all the other bands. Their shouty synthpunk was quite entertaining.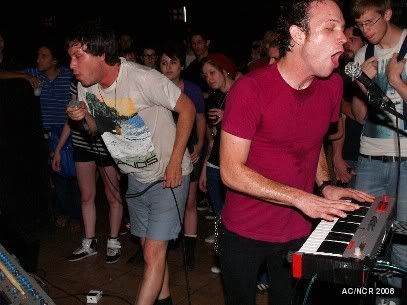 Team Robespierre, Mavericks, July 9, 2008
The Brutal Knights keep coming through town and I keep missing them. There's been a few changes since a March 2006 show at the Dominion, with a new bassist and John Power on drums. They ripped through their set with the same demented verve as I recall from two years ago.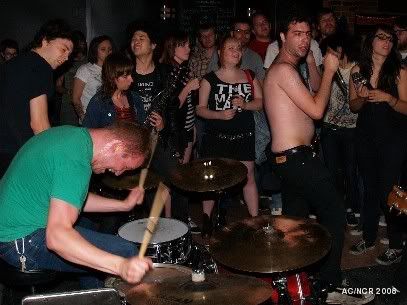 Brutal Knights, Mavericks, July 9, 2008
Finally Monotonix performed. Their music is indifferent sludge punk - these guys are all about the show. The band hails from Tel Aviv and features singer Ami Shalev, guitarist Yonatan Gat, and drummer Ran Shimoni. Shalev's not much of a singer, but you can see how he got his reputation as Israel's answer to Iggy Pop by basically going nuts through the entire set, starting with making his entrance spraying two bottles of water on the crowd, jumping on everything in sight (including people) climbing what could be climbed, dumping a garbage can on Shimoni's head, spewing beer ... the list goes on. As the show progressed the drum kit was dragged further into the middle of the club. At last, the band tore off outside, briefly setting up under the light standard before racing around the corner - with the audience in hot pursuit - to set up again on the handicapped ramp for Hakim Optical. A crazy end to one of the most bizarre sets I've ever witnessed.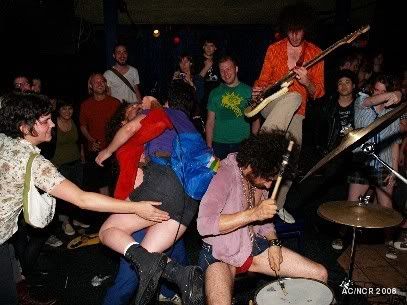 Monotonix, Mavericks, July 9, 2008
Incidentally, some people were wondering if Shimoni was wearing anything under his skirt. As you can see from the above photo, he was indeed sporting some lively red briefs. I guess this also means National Capital Rock officially features upskirt photography ...
Show reminder: The Jolts and The Creeps liven up the Rock'n'Roll Pizza Party at the Bytown Tavern.