My Canada Day turned out to be a little less active than planned; I did get to see most of Basia Bulat's show at Confederation Park, though. She sounded great and looked quite smashing in her red dress and heels. She had a smaller band with her this time about; only Allison Stewart on viola, Holly Coish on ukulele and her brother Bobby for some drumming. There was also some expert audience clapping and a couple of flybys. She covered Daniel H. Johnston's
True Love Will Find You In The End
and Sam Cooke's
Touch The Hem Of His Garment
. Bulat actually did double duty this Canada Day. After her noon show in Ottawa she zipped down to Toronto for an 8 o'clock show at the Harbourfront Centre.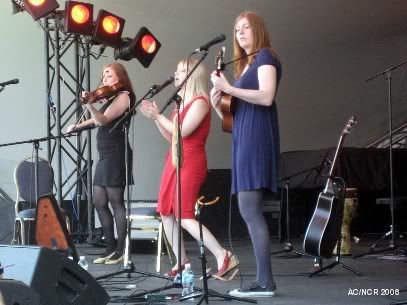 Basia Bulat, Confederation Park, July 1, 2008
Unfortunately my pictures didn't turn out great; I was trying a Canon 600 SD powershot I've been lent to use at Bluesfest since SLRs have been banned by the powers that be. The Jazzfest stage is quite shady, and its focussing was less than precise. Still it's better than nothing, and weighs just a bit more.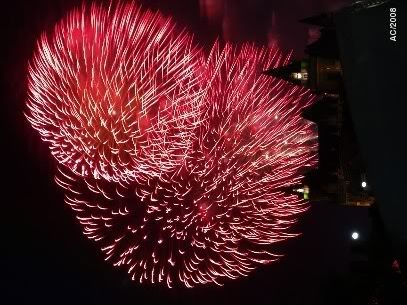 I was back in the area for the fireworks and took some decent photos with my Olympus E-500; more of them can seen on my sadly neglected
Other Side of the Shutter
blog.