The last day of Bluesfest, and the last day of my vacation. I didn't see much on the final day ... I wanted to see Trevor Alguire and Martha Wainright again, and did, and managed to catch a couple of other shows, but most of my attention was reserved for later in the evening (about which more elsewhere). Last year Sharon Jones and the Dap-Kings provided an explosive capper to my 2007 Bluesfest, the year before it was The New Pornographers. This time around the thought of Canned Heat, Robert Randolph or the Master Musicians of Jajouka weren't quite temptation enough to keep me at LeBreton Flats. I arrived at the Flats around 3 p.m. and stopped by the River Stage to listen to some blues.
Debbie Davies, Ottawa Bluesfest, July 13, 2008
The lady with the guitar was Dr. John-approved blueswoman
Debbie Davies
. She's highly regarded in the field, and I for one fancy her eclectic pickup choice. As with previous acts, she had some help from the Texas Horns; David Maxwell sat in on piano before his own set down on the Roots Stage later in the day. I enjoyed a few of her songs but my appetite for blues had been pretty well sated the day before, so I went off to check out Trevor James and The Perfect Gentlemen on the Giant Financial Institution Stage.
Trevor James and The Perfect Gentlemen, Ottawa Bluesfest, July 13, 2008
James was once in The Architects; as far as I can tell from my limited contact with both acts, his new project is less rock, more singer-songwriter. I like it when he tunes down the rock a bit - he has a very usable high range to his voice. His set ended around 4 p.m., which was just about when Trevor Alguire's was beginning, so the timing was perfect.
Trevor Alguire and His Roving Troubadors, Ottawa Bluesfest, July 13, 2008
This show was also the release gig for Alguire's new album,
30 Year Run
. His Troubadors are stacked with talent - including Keith Glass of Prairie Oyster and Michael Ball of Ball & Chain. Alguire is playing his next gig at the Kars Fair July 19. I waited around for my last Bluesfest set of the year.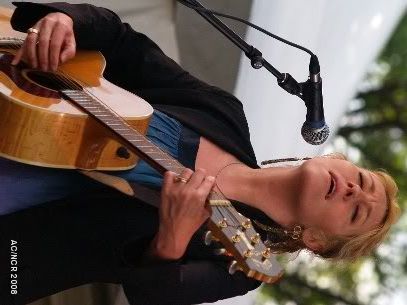 Martha Wainwright, Ottawa Bluesfest, July 13, 2008
It was a good one: Martha Wainright put on a fine show a couple of years ago, and I love her albums and her voice. She came on stage wearing a black coat, tie-die frock and a pair of silver heels that look like they could be used to stab someone.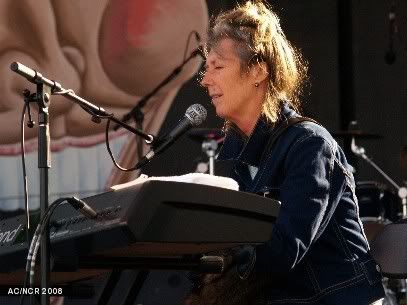 Kate McGarrigle, Ottawa Bluesfest, July 13, 2008
She didn't have her band with her this time, but she did have her mother, Kate McGarrigle, who played piano and sang along on a few songs. I can't say her performance was note perfect, but then again as she said before the duo performed Ma Rainey's version of
Oh Papa Blues
, they only had a half-hour to practice it. Then I biked on home to grab a glass of water and head over to Babylon to get my ears boxed.