My first day at Bluesfest not only went pretty smoothly, the music was pretty darn great. Matt Mays and El Torpedo started things off with a bang on the Gigantic Telecommunications Company Stage. There set was even more rocking than the one I witnessed at Zaphod's in 2003. His sound hasn't changed as much as I heard. He's now sitting on the part of the dial occupied by mid-1970s rock and roll radio. I would say that Mays wore his fondness for Bruce Springsteen on his sleeve, but since his Boss tour shirt didn't actually have sleeves so I'll say his
Cocaine Cowgirl
is about as flattering a tribute as Springsteen's
Darkness On The Edge of Town
is likely to get. (And now that I think about it, Travellin's sounds a bit like Tom Petty's
Won't Back Down
for the first few bars).
Matt Mays and El Torpedo, Bluesfest, July 3, 2008
After that exciting set I mulled heading over to see Jose Gonzales, but I really didn't want to lose my spot for TV On The Radio. Then I realized almost everyone else had left, so I figured I could safely head off to see Secret Machines for a half hour or so on the Gigantic Financial Institution Stage. I recall reviewing some of their CDs during my Ottawa
Sun
tenure and liking them. I still get the impression that Silver Apples and krautrock (particularly Neu!) are a big influence.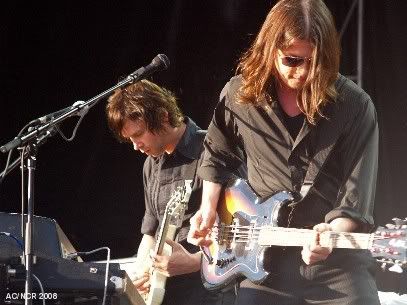 Secret Machines, Bluesfest, July 3, 2008
It was good, but the sound system was pumping out enough noise and their stage performance was mild mannered enough that I figured I could just as well enjoy things waiting for TV On The Radio to appear at the Gigantic Telecommunications Company Stage. TVOTR put on an amazing set; Tunde Adebimpe is a super frontman, working his way around the stage and flailing his arms and body with consummate theatricality.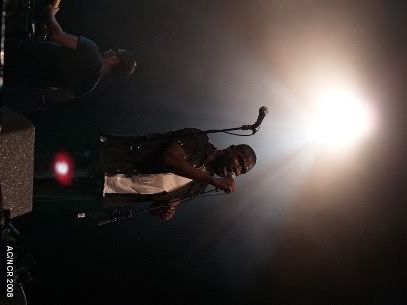 TV On The Radio, Bluesfest, July 3, 2008
After they finished I headed back to the Gigantic Financial Institution Stage to see The Tragically Hip. I figure it's my duty as a Canadian to see them at least once. I can see why they have a huge number of fans. Gord Downie's an entertaining performer. He plays around with his microphone like James Brown crossed with Charlie Chaplin, catches vast number of handkerchiefs to wipe the sweat from his hairless brow and shows absolutely no fear of looking foolish. I laughed out loud when he busted a microphone stand into three parts and then handed it out to members of the audience. Unfortunately his voice wasn't great. I bought a few of The Hip's early records and recall it being far more clear. As I've said with painfully tedious frequency, big concerts don't do much for me. That goes double when you're within earshot of a particularly tuneless fan who insists on "singing" along to all the songs. I also think that concerts have become too large when you see people toasting the band's image on the nearest Jumbotron with their beer instead of the stage. Still, they were entertaining enough to hold me for about 40 minutes; I particularly liked
Courage
.