Cool times all around last night - at least in the figurative sense. First stop of the evening was Zaphod's for the King Kang & The Shrines show. I tarried over my chicken chow mien and a DVD of Mario Bava's
Black Sunday
a little too long and missed the start of Young Rival's set, but liked what I heard.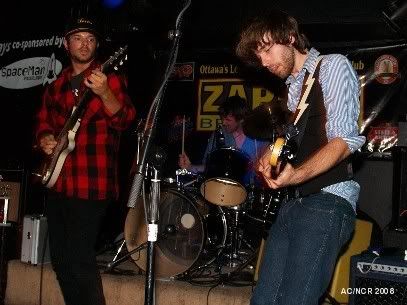 Young Rival, Zaphod Beeblebrox, July 26, 2008
First time I saw Young Rival, they were operating under the name Ride Theory and sounded like an early Yardbirds knockoff ... they've progressed a bit then and are now a noisier combo, complete with a Simply Saucer cover - well, they are from Hamilton after all.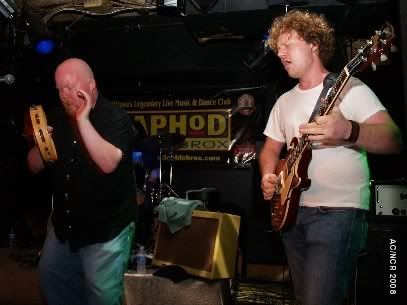 The Magnificent Butchers, Zaphod Beeblebrox, July 26, 2008
Next up, local combo The Magnificent Butchers, who are indeed magnificent. The band features Dave Martindale, Ryan Kerr, Julia Loan, Scott Terry and Toby (whose last name I didn't catch). As you'd expect of a band with a resume that includes The Phantom Shifters, Double Pumpers, Tokyo Sex Whale, Banditas and Mighty Eagle Band, they kept things heavy, though with plenty of melody as well.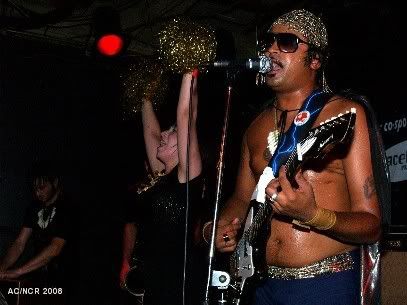 King Khan & His Sensational Shrines, Zaphod Beeblebrox, July 26, 2008
Things ere getting pretty packed and sweaty on Zaphod's dance floor by the time King Khan and His Sensational Shrines got on stage. With all the sound checking for three brass players and a keyboardist, along with the usual drums-bass-guitar, they only had time for a 50-minute set, but they kicked it out hard, finishing with a cover of The Saints'
Know Your Product
. It was warm enough for Khan to strip down to his skivvies (or maybe he does that all the time). Khan said they were heading over to the Elmdale Tavern so he could have sex with his wife in the bathroom and hang out with Bloodshot Bill, so no doubt the party kept on going.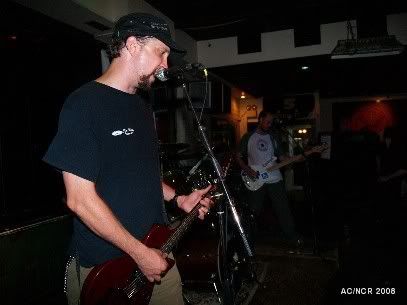 Three Jaw Puller, Zaphod Beeblebrox, July 26, 2008
I ducked over to The Dominion for Muffler Crunch's CD release party (I'm listening to their new one as I type, and it's mighty fine). Three Jaw Puller were closing their set as I entered the door, so I snapped a few pictures as they did their shouty, slightly metallic thing. I believe this was their first show outside a radio station studio.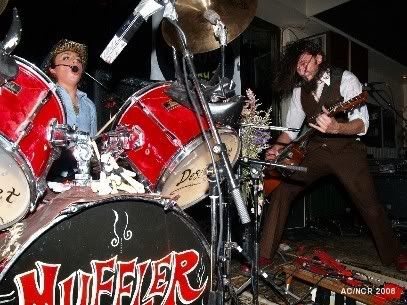 Muffler Crunch, Zaphod Beeblebrox, July 26, 2008
As usual Muffler Crunch brung it, and finished things off with some serious drim kit destruction and Luc standing on top of Angie The Barbarian. Great turnout for this show and an excellent sounding set.