I nipped off to the Bytown Tavern to see Montreal's Devil Eyes and local quartet Grizzlar last night. They're well suited to sharing a bill, since both bands play music that in many quarters would be described as "fucked up." Devil Eyes opened things with stuff going wrong. Microphones failed, the bass drum moved around, the bass went wonky. But despite all that the trio turned in an energetic performance that even included some rock-jumping, guitar whipping and a late transformation into Japanese hardcore. They've been described as blues rock damage, no-wave and wrong-wave. That seems fair. I recall they covered Johnny Kidd and The Pirates'
Please Don't Touch
and what may or may not have been a seriously abused version of The Monkees' theme song.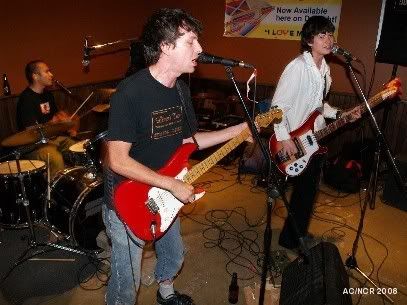 Devil Eyes, The Bytown Tavern, July 17, 2008
You can't make it out in this photo, but drummer "Zeelagh the Destroyer" is wearing an Animal from Muppets T-shirt. He got up later to sing, while Emilor switched over to drums. I bought a copy of their CD, which came sandwiched between two cement bricks. Now that's what I call packaging. They also had hot sauce.
Grizzlar surfed in on a beach theme. They brought their own inflatable ball, and their own sand.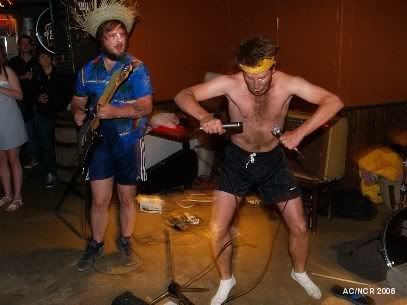 Grizzlar, The Bytown Tavern, July 17, 2008
A Grizzlar is allegedly half grizzly bear and half polar bear. Grizzlar is part Quebexico, part Million Dollar Marxists, part Token and part Sleeping Pilot (also in the band, but not shown above, are Pat Johnson and Johnny O.). Their music is shouty freakout punk.