Wednesday offered two varieties of rockabilly: The Kingmakers play in a more traditional vein, with covers of
Mystery Train
,
That's Allright
and
Drinkin' Wine Spodee-Odee
and some of their own tunes, recently record at Sun Studios in Memphis. They can also fit 75% of their band on the bass player's doublewide.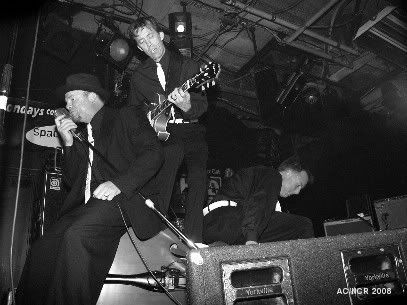 The Kingmakers, Zaphod Beeblebrox, July 16, 2008
Selkirk, Manitoba's Farrell Brothers are a more feral (no pun intended) outfit with a distinct strain of
rockus psychobillus
in their makeup. They're distinctly louder and more distortion heavy than the opener.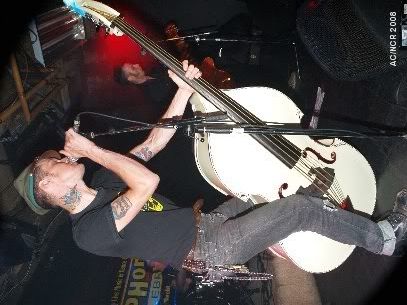 The Farrell Brothers, Zaphod Beeblebrox, July 16, 2008
No word on whether or not they can fit the whole band on the bass, though they're kind of skinny, so it should be easy.