What a quiet Monday. I went over to Zaphod's after watching
No Country For Old Men
and a bite to eat to see Victoria's Italian Edition, Toronto's Foxfire and local twosome Auto Racing. About two dozen folks had the same idea, mostly friends of the bands.
Italian Edition began things with some cerebral alternative rock.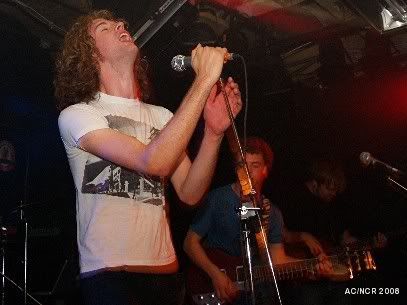 Italian Edition, Zaphod Beeblebrox, July 21, 2008
Foxfire is a Toronto septet who are either Eurosleaze discopop or indie soul dance music ... maybe that's the same thing? I gather they used to call themselves Foxfire Forest but dropped the Forest. All I know is Neil Rankin sings most of the lead vocals, Andre Lowy plays keys and trumpet.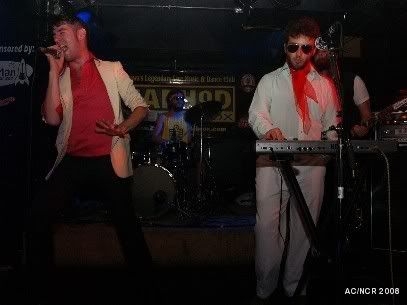 Foxfire, Zaphod Beeblebrox, July 21, 2008
Can't forget Hannah Krapivinsky (the other lead singer, a bouncy lass) and Anna Edwards over on the right.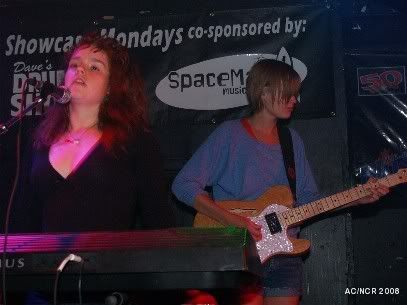 Foxfire, Zaphod Beeblebrox, July 21, 2008
By the time Auto Racing got on stage the crowd had shrunk to four (at least on the dancefloor). It's a duo, Cosmo on bass and Tyson Hein on drums. When I think of bass duos folks like Lightning Bolt, Pink and Brown and Om come to mind. Auto Racing are neither disjointed minimalist punk nor trance drone. Cosmo plays his six string by hammering on melodies on the higher strings and keeping the rhythm on the lower ones. I found them proggy. I can't think of anyone on the local scene (or elsewhere, for that matter) quite like them.
Auto Racing, Zaphod Beeblebrox, July 21, 2008
An interesting triple bill, mostly in a good way.