Another lovely day greeted festival-goers on Day 2 of the Ottawa Bluesfest. I spent my day on the other side of the War Museum, starting off at the Roots Stage. The Evil Children rocked their way through a tough-sounding set. The stage is nestled between some trees and a hill, so despite the mostly cloudless sky (complete with balloons floating overhead) there was actually some nice shade to be found. Unfortunately, that meant that yesterday's rain had plenty of opportunity to make mud, and things were still a bit squishy near the front. On the down side the sun falls behind the stage, which meant a lot of fiddling to get half-decent pictures.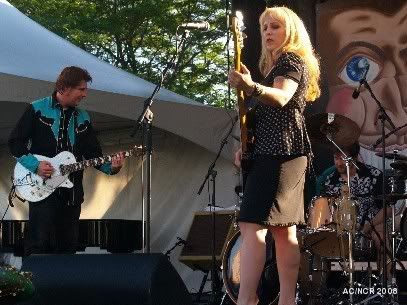 Evil Farm Children, Bluesfest, July 4, 2008
I stuck around for Guitar Shorty; the Austin Bluesman emerged for a blistering tear through one song, then retreated backstage: "Sorry folks, that was just a line check." His band performed a couple of rote blues tunes as a warmup and he finally appeared about 45 minutes after his scheduled start time.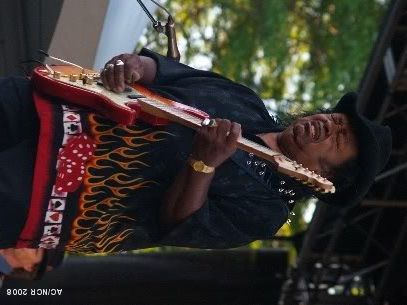 Guitar Shorty, Bluesfest, July 4, 2008
While waiting for Shorty to get on stage (for real), I pondered this Plasco-funded garbage can: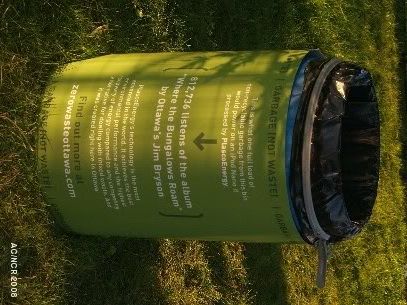 A garbage can, Bluesfest, July 4, 2008
As the larger version reveals, if this can were filled with garbage and the contents subject to the company's energy-creating process, it would produce enough energy to play Jim Bryson's
Where The Bungalows Roam
more than 800,000 times. I like Jim and all, but I'm not sure if I want to listen to one of his albums that often.
After a couple more Guitar Shorty tunes I decided to head over the hill to the Black Sheep Stage to see what Dave Bidini is up to these days.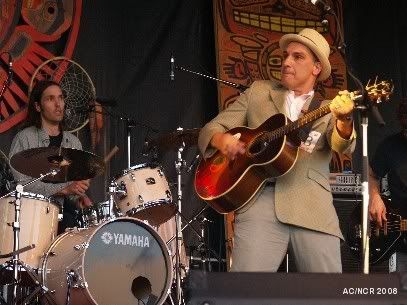 Dave Bidini Band, Bluesfest, July 4, 2008
I always enjoyed The Rheostatics, but I can't say Bidini's contributions to the group were my favourite moments - I'm more of a Tielli man. Anyway, he's a dandy performer and has an excellent band with him. He also has at least one great song,
The Land Is Wild
, about wayward hockey player Bryan Fogerty. On the other hand, he also has a song that snipes at Tim Horton's food, Chad Kroeger's music and Stephen Harper's politics. All a bit obvious, aren't they?
I had a hard choice to make between heading back to the Roots Stage to see Allen Toussaint or sticking around to see Orchestra Baobab. I've had excellent luck with previous African acts and the Black Sheep Stage so I decided to stick around.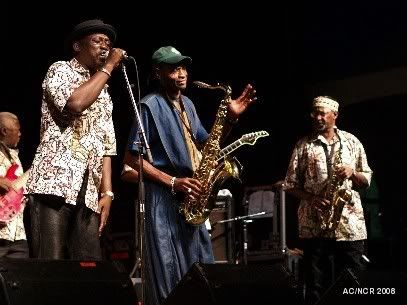 Orchestra Baobab, Bluesfest, July 4, 2008
It turned out to be a rewarding choice, since they were really excellent - not up to the standard of Toumani Diabate last year, but very close. The band's Cuban-African crossbreed is most intriguing, and their lead guitarist is great. Not a performance you sit down for, though a few lawn chair diehards did form a stubborn redoubt.