Back to Bluesfest for a wee post about New York's Secret Machines. The current band is Brandon Curtis on bass - eight-string bass at that - and Josh Garza on drums. Brandon's brother Benjamin left the band earlier this year, and since then the band has recruited extra musicians according to need. Philip E. Karnats was their guitarist for this gig and apparently is recording with them as well. On record they sound pretty shoegazy to me. Live they had a heavier sound, with more emphasis on rhythm and less on vocals. Garza's steady beat also inspires krautrock comparisons. They're currently on tour with space-proggers Coheed & Cambria.
Philip and Brandon.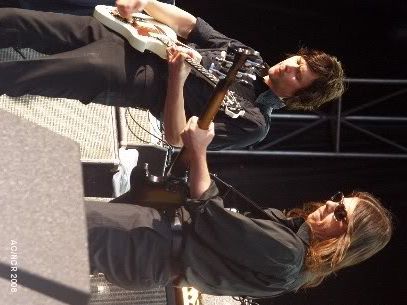 Josh.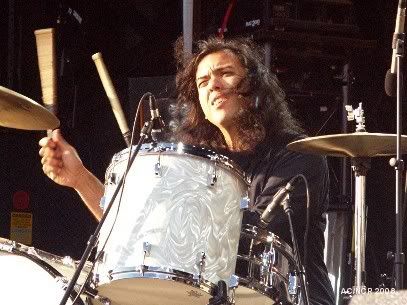 And so on. I've said it before, and I'll say it again before my vast collection of Bluesfest photos are exhausted: Wearing black for summer concerts is not a good idea. Then again, these guys originally came from Austin, Tex., so perhaps they don't mind it.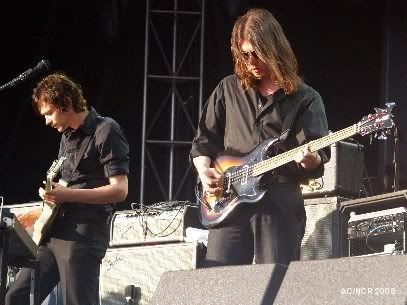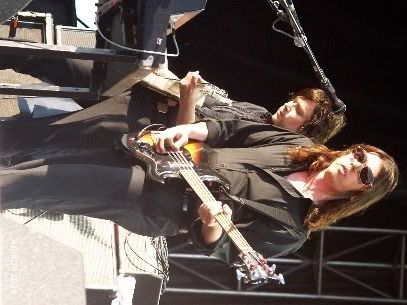 More playing than singing for this gig.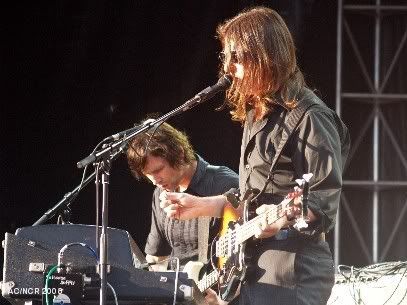 After a few more tunes it was time to scuttle back to the Giant Telecommunications Company stage to grab a space near the stage for TV On The Radio's set.