You didn't have to look at a calendar to tell the weekend had arrived at Bluesfest last night. Sure, things were a little quiet at 6 p.m., but by 7:30 LeBreton Flats was a busy place: Busier than any night I'd witnessed this year, and it wasn't all Great Big Sea's fault. The first thing I did when I arrived was go to the Giant Telecommunications Company Stage where the Brothers Chaffey were playing.
Brothers Chaffey, Ottawa Bluesfest, July 11, 2008
Last time I saw the brothers Matthew and Curtis they were performing as a duo; this time they had their rhythm section (bassist Dave Macdonald and drummer Nick Diak) with them. Adam Puddington was also on hand, so they rocked pretty hard on their own tunes and a cover of Bo Diddley's
Mona
.
The Love Machine, Ottawa Bluesfest, July 11, 2008
My plan was to go and check out Shelby Lynne, but with an hour or so to go I wiled the time away at the River Stage. Like many bands today, The Love Machine like to link high volume with sensitive thoughts (at least on stage). Unlike most bands, this does not lead them to sound like blustering wimps. Despite being grilled by the descending summer sun, they put on a fairly energetic set with members of The Brights joining them for group hugs and to present singer Sean with a birthday cake. The big stage also gave drummer Mike a chance for some really high stick tosses (two of which he caught).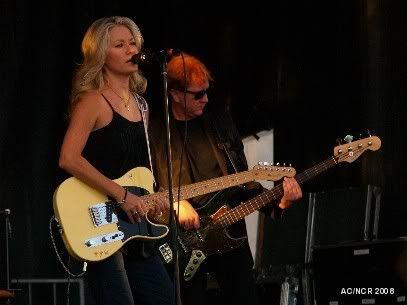 Shelby Lynne, Ottawa Bluesfest, July 11, 2008
I got to the Black Sheep Stage around 7:50, but the lawn chairs beat me to it. I get the impression a heap of folks wanted to see Ray Davies, since they didn't budge after Lynne finished her set. It was a fun one, with Lynne cementing her reputation as one of country's less clean-livin' stars by telling one concert-goer "fine-smellin' reefer man" and describing one song as being written after 14 drinks. She has a new record of Dusty Springfield tunes - her first actual vinyl record in a 20-year recording career, she says - and treated the audience to such Springfield tunes:
Breakfast in Bed
,
I Only Want To Be With You
and Tony Joe White's
Willie and Laura Mae Jones
. She had a very good band of Nashville musicians with her and it all sounded very sharp.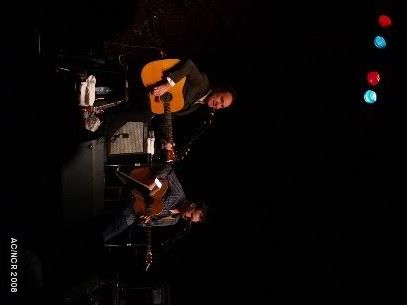 Ray Davies, Ottawa Bluesfest, July 11, 2008
Ray Davies hit the stage with only guitarist Bill Shanley for company - it seems the rest of his band went off and got married last time they were in Canada. Davies did play a tune or two of recent vintage, including the title track of 2007's Working Man's Cafe, but mostly stuck with well known Kinks classics:
Dedicated Follower of Fashion
,
See My Friends, I'm Not Like Everybody Else
,
Lazy Sunday Afternoon
,
Tired of Waiting for You
,
Dead End Street
,
I Need You
,
Where Have All the Good Times Gone
and a final one-two punch, assisted by Shelby Lynne's band, of the eternal
Till the End of the Day
and
You Really Got Me
.