Off to Mavericks to see the relocated Do Make Say think show. Originally booked for Capital Music Hall, it had no problem selling out the much smaller venue. I wasn't the last guy to buy tickets - the guy behind me in line at End Hits on Wednesday might have been though, since they were down to two then. Unfortunately I thought things would be starting later than they did and only caught the tail end of Jetplanes of Abraham's set and an appreciative "Woo!" from the audience. That was at a few minutes after 10 p.m. I guess they need the early start time to accommodate all the shifting of gear. I'm no expert but I imagine being the soundman for this gig was a bit of a nightmare.
A quickly snapped picture of a few Abrahamites.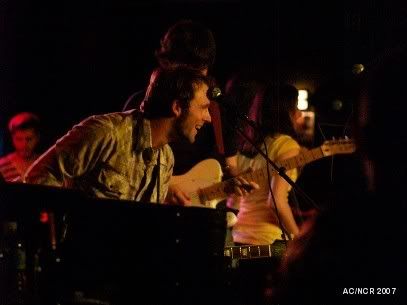 Do Make Say Think began their set with a bit of "technological difficulty banter." For all the grumbling the switch-around wasn't too lengthy and pretty soon they were into their first tune. Fifty minutes later: "And now for our second song."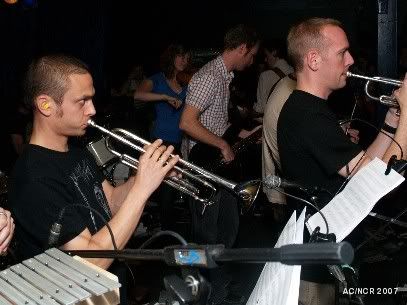 I thought things took a bit to get interesting, but after they hit their stride all was good.