Eric's Trip played their last show in Moncton in 1996. Well okay, there was that reunion gig in 2001, and apparently they're still not done. Rick White and Julie Doiron have been making reputations for themselves post-Trip, and Mark Gaudet and Chris Thompson have also kept themselves busy, so it was little stretch for the band got back together to play on a trio of songs on Doiron's latest album,
Woke Myself Up
. They
decided a mini-tour was in order, and a handful of dates was the result. They still have a Pop Montreal show on Sunday and a couple of East Coast dates later in October to go. Anyway, they did it up right, and with the exception of the lighting guy overdoing it a tad, it was a fine way to revisit fuzzy indie rock memories of the early 1990s.
First up were Blue Heeler; you may recall Dick Morello
performing with Julie
in Shotgun and Jaybird at the Rainbow last November. Blue Heeler is the duo's new combo and sounds quite Neil Youngish to me. They'll be playing again tonight at Babylon with
The Superfantastics
.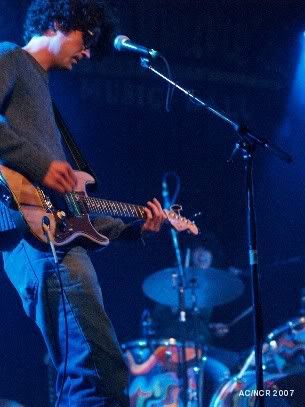 Moon Socket is Chris Thompson's solo gig. Normally he plays on acoustic - I think his tunes might have worked out better that way. He reminded me a bit of Chris Page.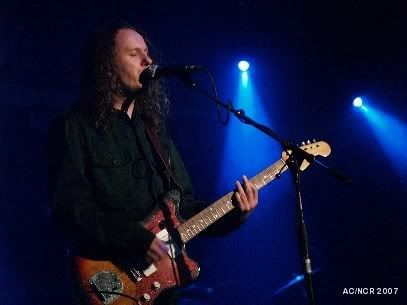 Rick White's new act, when he's not leading Elevator, is dubbed The Rick White Album. But really it's just Rick, doing his dreamy acoustic psychedelica.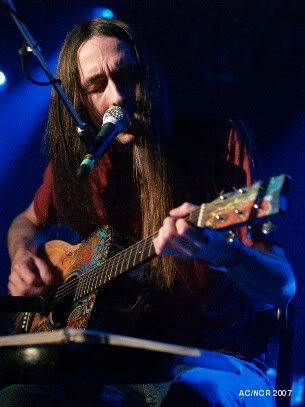 And finally the main course, Eric's Trip. Here's Julie taking a spin on Dick Morello's guitar while Thompson (just behind her), uses her bass.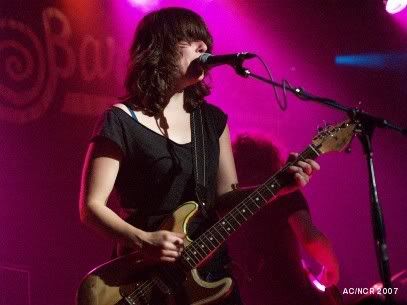 That was a lot of fun. I hope they reunite again soon.