I was planning on just taking it easy yesterday since the social calendar was looking a little empty and my work schedule is going to be a bit hellish for the next couple of weeks, but with less than 24 hours to go I decided to check out Shout Out Out Out Out for the third time (I only learned of a nearby Creeps show after I'd bought my ticket, otherwise I'd be at The Bytown Tavern instead). Dance music is not my favourite genre, but SOOOO always put on an energetic show, and true to form Zaphod's was a sweatbox inside a quarter hour.
The opener was San Serac, who sings along to some canned rhythm, occasionally aided by some percussion or keyboard. His voice is pitched somewhere between the Cure's Robert Smith and Jonathan Richman. Some also say Bryan Ferry. I was a bit surprised to hear he used to be in Candy Machine - I'm sure I've got one of their albums kicking around. Anyway, it was a tasty opener.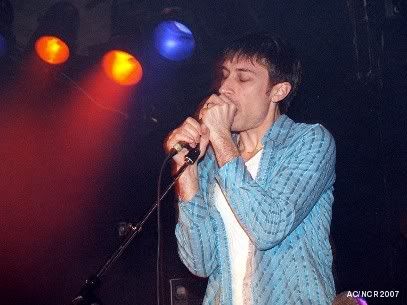 The Shout Outers once again provided more bounce for the ounce and some sinus-clenching bass.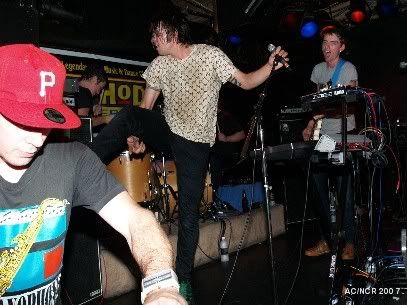 And yes, I bounced along.