Like Greg Davis, Ohbijou passed through town not so long ago. They mustered a capable performance on The Black Sheep Stage in July, but I didn't stick it out, preferring to see what Joel Plaskett was up to on another stage. This time I caught their whole set, and found it very pleasant, although a week after the fact I'm having a hard time remembering any details (although this may be cause listening to Thai pop has wiped all competing melodies right out of my brain).
Ringleader Casey Mejica gets down on the glockenspiel. Andrew Kinoshita usually plays mandolin, but here he's taken over Heather Kirby's bass while she handle's Casey's Tele.
Anissa Hart works the high notes while Casey's sister Jennifer plays in the background.
Keyboardist Ryan Carley in closeup.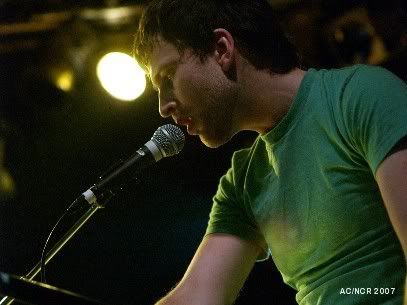 Heather on bass ... She's obstructing the view of drummer James Bunton.
Andrew back on eight strings.
More Casey.
Sisterly singalong action.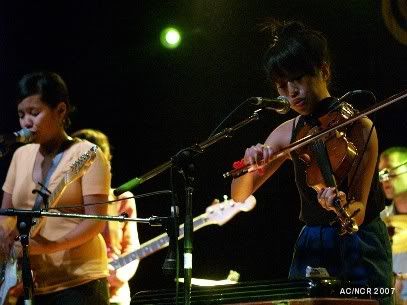 And so on!
Six-sevenths of the whole lot!
Sweet, but sandwiched between Megafaun, Greg Davis and Akron/Family they seemed kind of unremarkable.