The King Khan and BBQ Show took a tortured path to Irene's last night. Originally the former Spaceshits compatriots were going to open for The Detroit Cobras at Barrymore's. The two outfits had an acrimonious split, and the Cobras were barred from Canada due to visa problems. So I head off to Irene's and Four'n'Giv'r are three or four songs into their set. King Khan mentioned Simply Saucer's
Cyborgs Revisited
while thanking the band at the start of his own set - good comparison.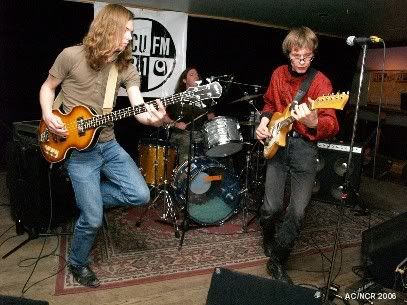 Next up, not King Khan and BBQ, but Bloodshot Bill. Yeah, ol' Bloodshot was supposed to be touring the U.S.A. right about now, but it seems The Detroit Cobras aren't the only ones to have visa problems. To make a long story short, Bill was stopped at the border on his last jaunt south, and the upshot is he's barred for five years from America. Since he's pals, or brothers, or cousins, or neighbours with King Khan he showed up at Irene's instead.
He played a fine set - he got a rousing round applause from the ladies waiting in line at the woman's bathroom. Then King Khan and BBQ romped through their own performance.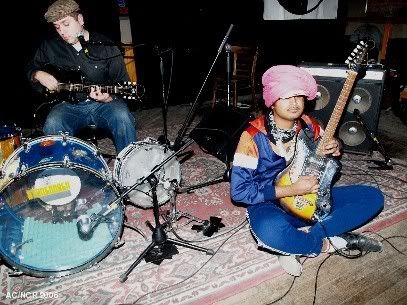 Unfortunately Mark Sultan blew his vocal chords, so it was mostly Khan, but still a hot night of rock'n'roll slop. I'd say more about dancing girls and broken glass, but frankly I'm starting to sweat in an unpleasant fashion - I think I'm gonna be sick.