I went to Zaphod Beeblebrox last night to see noted pop purveyors The Figgs. The New York band is probably best known for backing Graham Parker, a duty they've also pulled for ex-Replacement Tommy Stinson; I first heard of them about a decade ago when someone gave me a very scratchy CD of their
The Figgs Couldn't Get High
. I think I might have seen them on one of their rare visits to Ottawa, but my memory is cloudy.
The opening band was The BushPilots, who I last saw at Bluesfest 2008; as then they were joined by Maureen from Good2Go for The Flying Burrito Brothers'
Sin City
.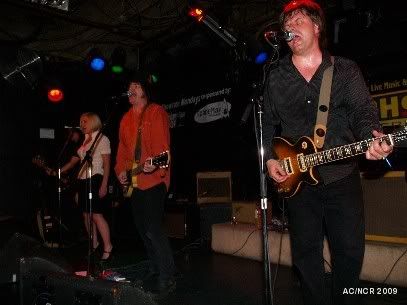 The Figgs put on a hot set and debuted a few numbers - they must be thinking it's time for their next album.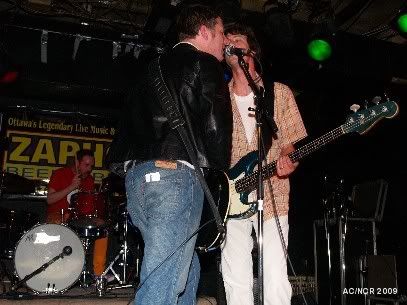 That would have been enough entertainment for anyone's evening, but since Token, Guillotine and The Double Pumpers were playing a stag-and-doe party for Johnny O. of The Million Dollar Marxists and his fiancee Kiera I figured I'd go over to Babylon and catch the tail end of that.
The Double Pumpers were just starting as I walked in the door. Last time I saw them was for the release of
Old Gold
- more than a year - and since then they seem to have spent more time doing their Ukrainia thing. They were sounding super heavy at this gig, and played a great version of Iron Maiden's
Wrathchild
.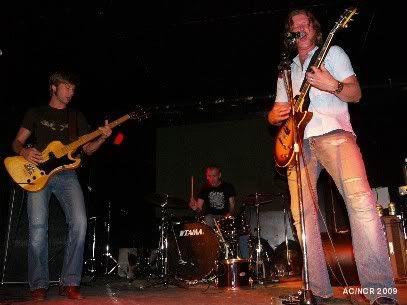 They finished things off around 12:30 ... I thought they were the last band of the evening, but I got the hint from Dave Martindale's remarks about "a reunion happening up here" that that was not in fact the case. As DJ Gaga Man (a.k.a. Ian Manhire) confirmed, Guillotine and Token had yet to hit the stage - I should have guessed from the lack of broken glass on the floor. I went off to eat some nachos and wait around for the chaos to come.
I haven't seen them play before as Guillotine, but drummer Tim has recently graced the blog as bass player and vocalist for Year Zero and behind the kit for Million Dollar Marxists. The rest of the guys
I caught years ago at Mavericks performing as Roll Gypsy Roll
.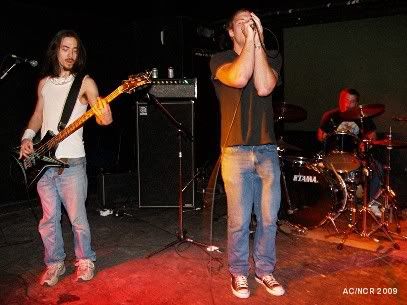 Token features one time Million Dollar Marxists Steve Adamyk, Lee and Johnny O. on bass, guitar and drums respectively and the inimtable Owen Token on lead strangeness. Owen's been fronting Grizzlar of late, and is certainly one of the region's craziest lead singers. Last time I saw him he was sporting beach gear. This time around he went for an appropriately nuptial look. Ken Vermin of four-stroke caught the bouquet, but he's already married, so I guess it doesn't count.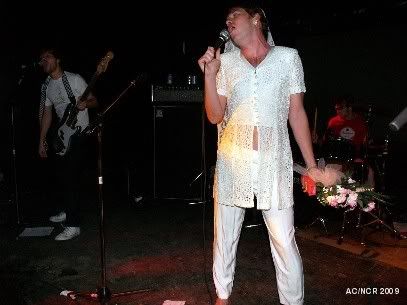 As you'd expect, there was much broken glass on the floor and moshing for their woozy hardcore set. I also scored a test-pressing of the new Gaga Records compilation. Yay! Mind you, I finally got home around 2:30 a.m., which is why you're getting this post now.