Back to the basement, where one can find your faithful blogger (clutching his knee, yelling "Oww!" and about three dozen folks drinking wine straight from the bottle (I declined, since I expected major league pankillers in my immediate future). Next band up was Nervous System, my favourite combo of the night in a very capable crowd. I did that psych rock, y'know.
Jesse Winchester, Matt Cossgrove and Matt Oxley (the latter two also of of Crazy Ocean) make up the trio.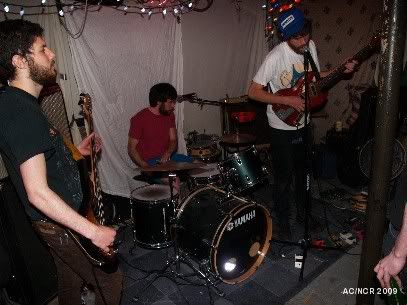 Rhythm section action!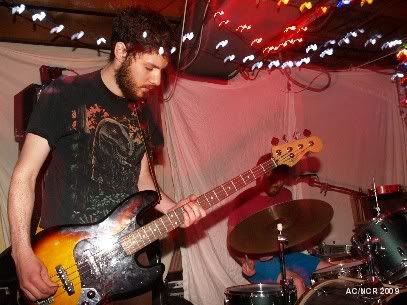 Matt bends a bit.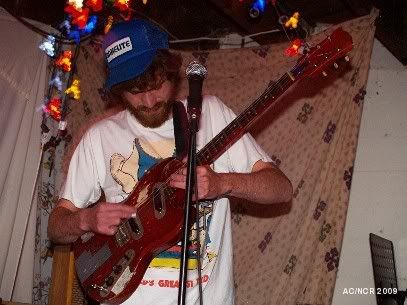 A terrible Matt picture.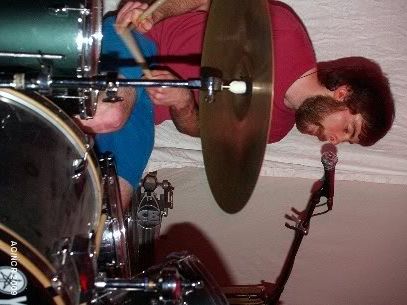 Someone else's flash went off, I figure.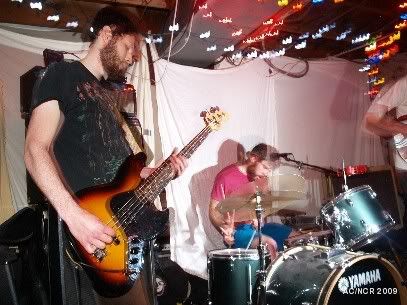 And now, fun with Christmas lights ... not to rule out the possibility that Oxley's brain actually does glow like that.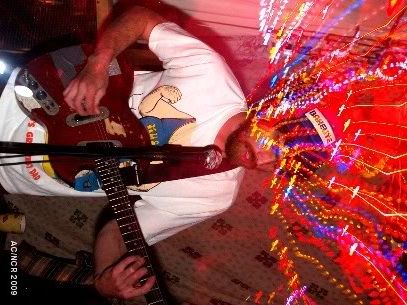 Weee!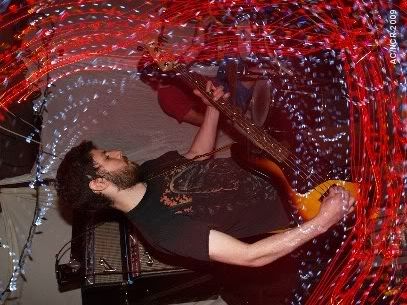 And there you go then.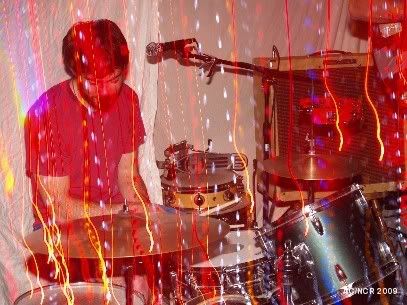 They'll be back to the basement as part of Gaga Weekend on June 1, following a show in Montreal just a couple of days at Friendship Cove in Montreal.
Show reminder: Threat Signal, Endast, Immersed and Her Last Words pump the volume at The Bayou; Arietta release their new CD

Migration

at Mavericks with, Oh No Forest Fires, Dinosaur Bones; Rock Plaza Central, The Murder Plans and Giant Hand play Zaphod Beeblebrox; The Termights, Loon Choir and Sweet Decay perform at The Boofs ... which is a Persian restaurant on Industrial Ave. Well, I've heard of stranger venues. The JW Jones Blues Band performs at The Rainbow; Ken Workman and The Union and The Woodrunners perform at Irene's. I can highly recommend going to see Buzz Deluxe at the Elmdale House Tavern, if only to catch openers The Von Drats. (

A late addition:

) Also, i(heart)music is having a fundraiser at Cafe DeKcuf with The John Punch Band, Blazer, Sunjet and The Centretown Cripplers.