Due to an unfortunate brain cramp on my part, I completely forgot to mention last night's coolest show in my usual post roundup:
Panopticon Eyelids
,
Holy Cobras
,
Nervous System
and
The Girlfriends
in the basement of 854 Bronson Ave., also known as Cozzie's after our evening's host, Matt Cosgrove. It truly was an evening of pleasure and pain. Pleasure, because there was a lot of ace music and the Christmas lights were all pretty (and also give my autofocus something to work with, thank heaven). Pain, for reasons I'll get to soon.
The Girlfriends started things off with some lo-fi garage buzz. They call it Pleistocene pop, and hey why not. You've got one guy on guitar, another guy on unplugged guitar and a guy on drums (who did some mid-gig switching). Spiky fuzz from a trio of young dudes, at least two of whom are brothers, which may explain why they started beating each other up as their set came to an end ... seriously, I've never known a pair of brothers not to fight. It started with some egg-throwing, as these things often do. That progressed to some guitar smashing, then to kicking and such like. "So, they think they're the Black Lips," said one observer, not unkindly. "So, did you
feel
The
Girlfriends?" the guy next to me asked after the various shenanigans had concluded. "Yes - they fell on me!" This is why it's a good idea not to be in the front row. Fortunately the guitarist who fell on me wasn't too heavy and didn't hurt a bit. Being whacked on the knee by a soon-to-be-demolished guitar? Now that hurt. Good thing the Coz anted up some painkillers.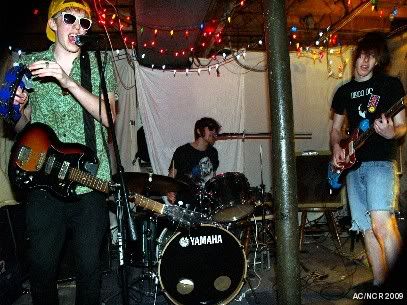 The Girlfriends, 854 Bronson Avenue, May 14, 2009
Up next, another local trio with which I had no previous contact (other than seeing Matt Cosgrove and Jesse Winchester in other local acts like Gunsmoke, Sick Fits and Savage Crimes). Nervous System were really great. The band is rounded out by Matt Oxley on guitar and vocals. The two Matts also performs as
Crazy Ocean
, and has a show at 854 Bronson on May 22. Some seriously amazing psych rock from this trio. I am definitely jonesing for more. As for the picture below, you know what Christmas lights do to me ...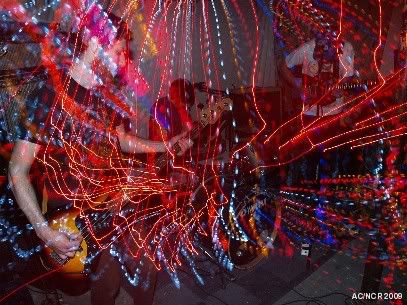 Nervous System, 854 Bronson Avenue, May 14, 2009
Montreal's Panopticon Eyelids offered up some similarly psychedelic goodness. After some serious negotiations over the amount of reverb they'd get, they kicked out the jams in good style. I could take or leave the vocals, but the dual guitar interplay was wicked in the extreme, particularly backed by the steady march of the drums, which really held everything together.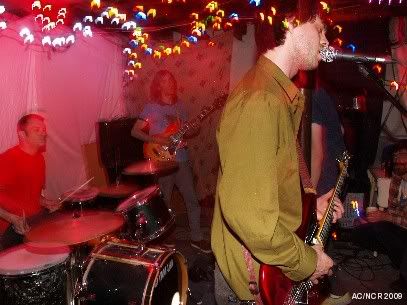 Panopticon Eyelids, 854 Bronson Avenue, May 14, 2009
Holy Cobras finished the night off with their usual Chrome-meets-krautrock-meets-the-Germs blurt. There was plenty of audience shaking and at one point, Danny was baptized with beer. Actually, it was a Pabstism. Incidentally that's not his hat. It belonged to The Girlfriends' real guitarist. I think everyone wore it once, including me.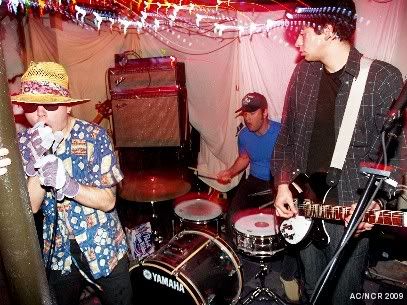 Holy Cobras, 854 Bronson Avenue, May 14, 2009
The show drew a good crowd too, and the basement was much admired, as it should be. Here's to many more shows in the future (not forgetting it will serve as one of the Gaga Weekend's venues). And now I'm off to slap a hot/cold patch on my knee ... owowowowow.