The Hot Blood Bombers are just one of the many fine Canadian acts carrying the torch of power trio rock'n'roll aloft with pride. Stick them on a bill with C'mon, The Double Pumpers, Tokyo Sex Whale, Flash Lightnin, the late Shikasta or Tricky Woo and they'd do just fine. They certainly played an explosive set at The Royal Oak a couple of nights ago. I also highly recommend their EP
Dirty Little Party
.
Them bombers explode out of the gate.
The guilty parties are Shane Grass on bass, Herb Exner on drums and Dave David on guitar.
Shane sings some.
Dave sings some more.
And so on!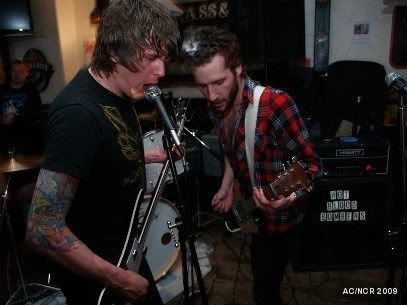 Miesha - who is 50% of
Miesha & The Spanks
, which I guess would make her the non-spanking portion - makes a guest appearance for a cover of The MC5's
Ramblin' Rose
.
Fun fact: Herb Exner is Canada's tallest drummer.
Faceoff action!
Singalong action!
Big finale and ducking action!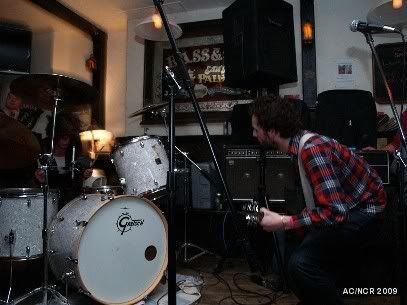 A fine way to cap the evening. They're probably back in their hometown of Regina now preparing for their opening slot with Monotonix on May 22.