The National Arts Centre's "Scene" presentations are a really good idea, bring all sorts of interesting art and artists from Canada's provinces to perform in the capital. There's usually a good range of popular music on display as well. This year British Columbia had the chance to strut its stuff. Unfortunately my work schedule meant missing a bunch of stuff I like: I wish I could have scored a day off to see Black Mountain, for example. As it was, my opportunity to see fabled B.C. punk combo NoMeansNo occurred purely by chance as there was some schedule recalculation to launch
The Ottawa Sun
's new website. So on April 21 I zipped over to Babylon. The first band on the bill, Potty Umbrella, were just into their second song as I made it in the door. Okay, so
Potty Umbrella
is not in fact from British Columbia ... but they have toured with NoMeansNo before, and their jazzy side no doubt proffers some connection. According to the band, their music is "ActivePsychoTrans enriched with Elecrto Jazz (
sic
)." I thought they sounded a bit like Motorpsycho.
I kicked off my shoot with some low-light photos. From left to right we have Maciej Szymborski on electric piano, Slawek Szudrowicz on guitar, Piotr Komosinski on bass and Artur Mackowiak on synthesizer; drummer Piotr Waliszewski is concealed behind Szudrowicz.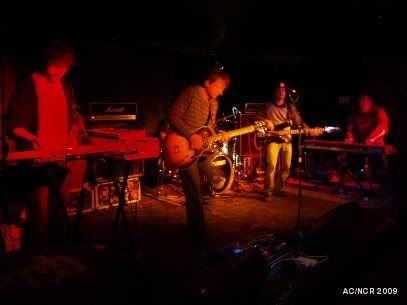 Rhythmic Piotrs action!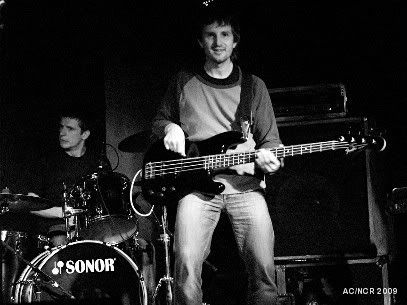 Slawek rocks the hollowbody.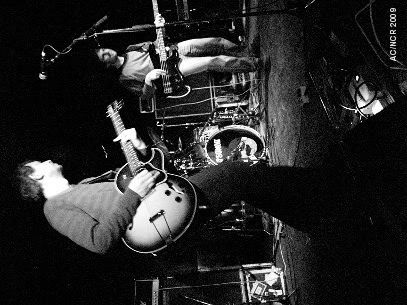 Korg Poly action!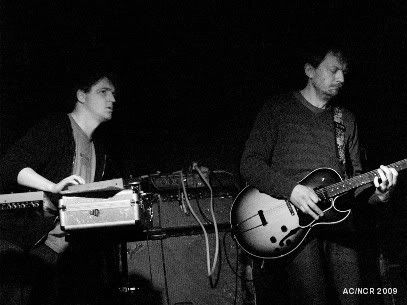 Artur stands out.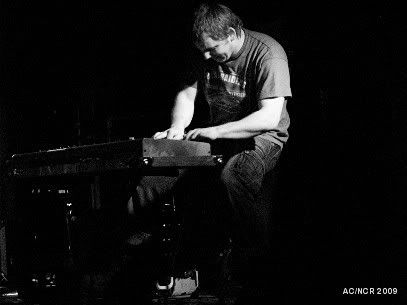 Okay, enough of this black and white stuff - here's some flash photography of their final number, a heavily reworked cover of noted Polish composer Stiviego Wondera's
Higher Ground
.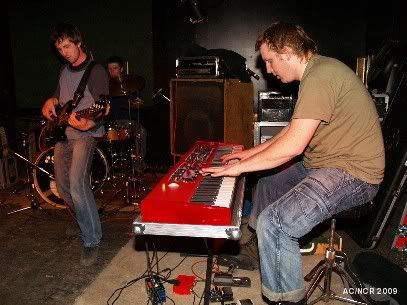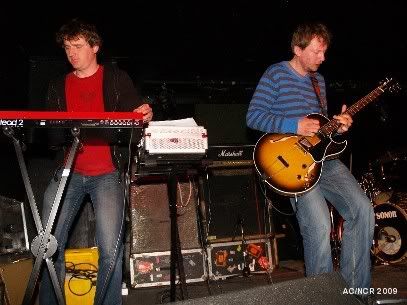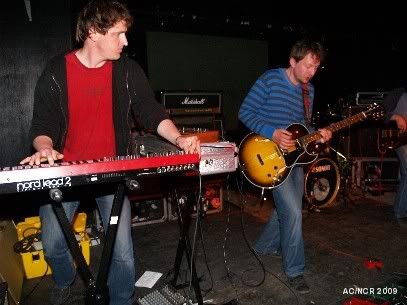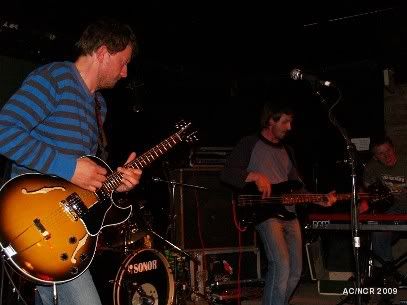 Quite an entertaining set, albeit brief. I heard they also opened for The Hanson Brothers ... I wonder how that crowd took it.
Show reminder: Speaking of the B.C. Scene, West Coasters You Say Party! We Say Die! and Immaculate Machine, do the honours at Babylon (unfortunately a perforated ulcer means Japandroids had to cancel ... oh well, they'll be hitting Bluesfest). Brights, Benefit Of A Doubt, Orphan Choir and OldBoys play Mavericks; The Balconies, Mixylodian and Museum Pieces rock the house at 443 Kent; Good2Go and The Bruitals perform at Irene's; There's more Kelp 15th anniversary action, starting at the Carleton Tavern, with performances by Chris Page, Yellow Jacket Avenger and Centretown Cripplers, plus Steve Vardy doing his part to battle swine flu with a big helping of pulled pork (it's us or them people!). Later in the day at The Gluepot Pub you can catch Rhume, Flecton Big Sky, The Flaps, and Montreal punks American Devices. There's honky-tonking at the Elmdale with Ball and Chain and the Wreckers - Prairie Oyster Keith Glass will be guesting on guitar. Strange folkies Weird Weather and The Weather Station perform on the most appropriate bill ever (or at least since since Hot Piss opened for The Toilet Boys) at the Avant-Garde Bar.