I certainly picked a nice couple of days off ... I predict after the weather this Wednesday and Thursday my apartment's going to be a lot cleaner. However, a man can only take so much exposure to cleaning solvents, so I headed off to The Rainbow to see what the young folk of today are doing - specifically a couple of bands from Hamilton on tour together and a local sextet.
Property Line were the odd men (and women) out on this bill. Their music on Myspace comes across as amiable folk-pop; live it has a gutsier, rocking sound. There's a steel guitar player and a keyboardist tucked away off to the left of this shot. They have a lot of pals, which meant The Rainbow was quite full when I showed up.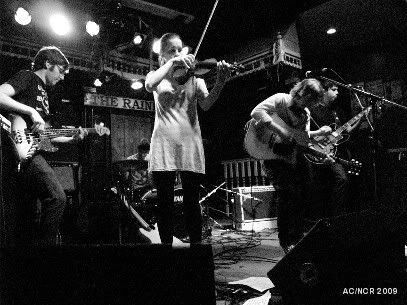 Property Line, The Rainbow, May 27, 2009
This gig may not have been the most accurate exposure to The Dirty Nil, since their lineup normally includes bass player Dave Nardi. He couldn't make it because, as guitarist Luke explained "He's still in high school." They say they like Nirvana and Weezer and their sound definitely has that early 1990s college rock thing going for it, albeit in more minimalist fashion. Their set included a cover of The Pixies'
Gigantic
and, less in line with their sound, Elton John's
Tiny Dancer
. There was a lot of jumping around during this set.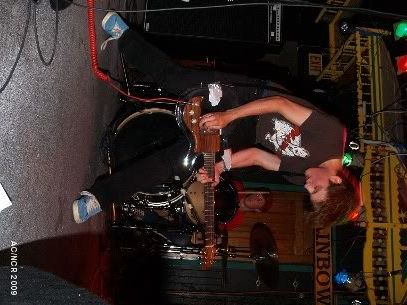 The Dirty Nil, The Rainbow, May 27, 2009
We Were Heads were the most inchoate of the lot. They covered Pavement's
Summer Babe
and a version of The Ramones'
Cretin Hop
which didn't sound as good swaddled in fuzz. They like jumping around too, so much so that the bassist lost his glasses (which were promptly donned by the guitarist).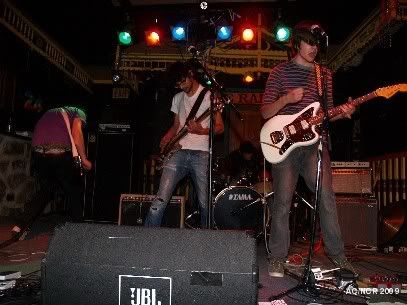 We Were Heads, The Rainbow, May 27, 2009
Their set unfortunately devolved into broken strings and patch cord problems near the last song, but at least they're an energetic bunch.