Off to Zaphod's back at the end of April (or thereabouts) for a showcase by Ben Wilson of That's The Spirit and associates - in this case The Polytones, in which he plays guitar, and openers The Village Bicycles, which include TTS bassist Simon. The Village Bicycles are a lot of fun ... actually they should do a show with those other
Bicycles
. The Vilage variety is heavier, mixes in some reggae and heavy metal and seem improbably fixated on skateboarding, but they're just as entertaining.
From left to right we have keyboardist Nikki, drummer The Baron, guitarist and main vocalist Teatime and bassist PdiK.
PdiK
grinds out the low end.
The Baron bashes.
Nikki also plays the trumpet, I hear - none of that at this show, though (unless I came too late to hear it).
Teatime would like you to listen to Bob Marley.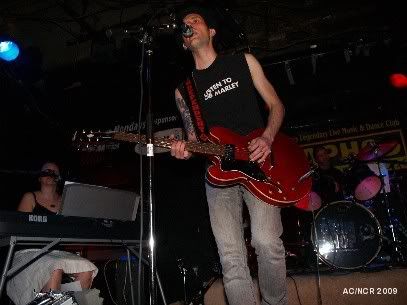 Bicycling action!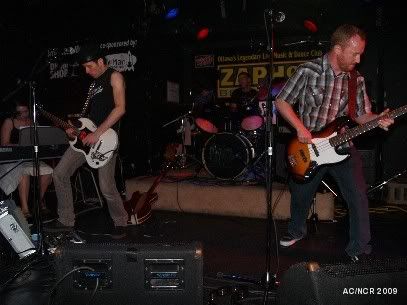 "Aaaaaaaaahhhhh!" screaming action!
The whole lot!
And so on!
Faceoff action!
They finished off with a cover of Van Halen's
Jump
, plus some actually jumping!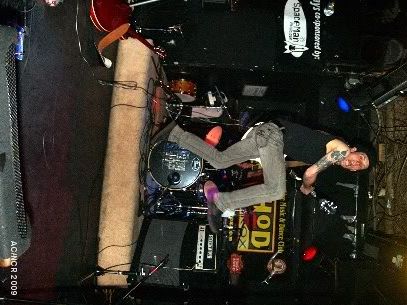 The end!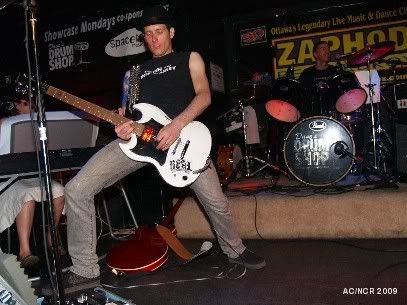 They'll be playing the Elmdale House June 9.