All right, I was planning to go to Cafe DeKcuf to see Rich Aucoin and company, both to provide something different from the rock'n'soul I'll be seeing tonight at Babylon, courtesy of King Khan and His Sensational Shrines and because taking photographs in the Royal Oak is a pain thanks to its dark environs. Then I got to watching
Master of the Flying Guillotine
, and you know how time flies when heads roll. To make a long story a little less long, I walked over to The Royal Oak on Bank St. to catch what I thought was going to be an evening of electropunkery, a la Lost Sounds. Not so!
Openers Endanged Ape may have a Moog on hand, but the Lethbridge, Alta., sextet are closer to an outfit like Simply Saucer or Joy Division (and I'm not the first person to have made the comparison, apparently). They have a lively, shirt-shedding singer too, who had fun racing around the room giving high fives, jumping on stuff and falling down. There was some enthusiastic crowd dancing - a little too enthusiastic in the case of the guy who lost his cellphone and ID.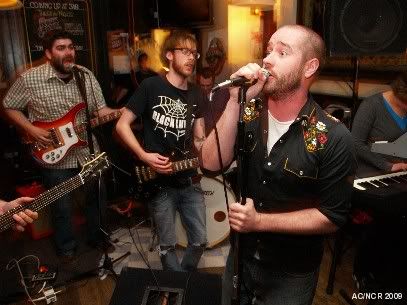 Endangered Ape, Royal Oak, May 7, 2009
I'm not going to say that Montreal's O Voids sound a huge amount like The Urinals or Flipper, but there's a certain similarity to the aesthetic impulse of those two combos in their yowly punk blurt. They've garnered some art-punk comparisons to Wire and Mission of Burma, and I immediately thought they should play with The Suppositories if they ever come back through town.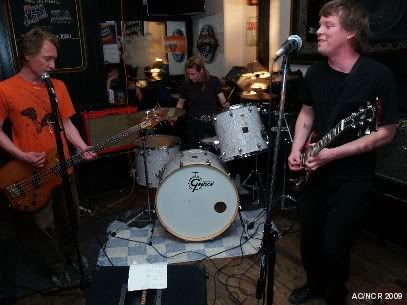 O Voids, Royal Oak, May 7, 2009
The Hot Blood Bombers capped the evening with a sizzling set of loud, fuzzy and bluesy hard rock. They made me think of combos like Australia's Powder Monkeys and played the MC5's
Ramblin' Rose
as their penultimate tune before finishing off with some ramalama blues.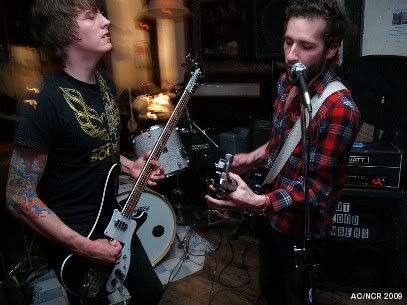 Hot Blood Bombers, Royal Oak, May 7, 2009
The whole lot is performing in Montreal tonight at Squalor along with Ottawa's own Sedatives.