I just got the word that the other act on the bill with Black Boot Trio this Valentine's Day at The Rainbow is going to be Shanker and Romps. This means you can get pancakes with your murder ballad, or something like that. Either that, or the Four Horseman of the Apocalypse will be the Four Bicyclists of the Apocalypse.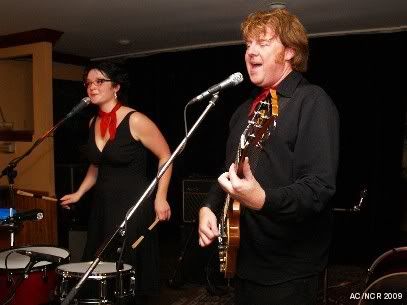 Shanker and Romps, Irene's, November 7, 2008
But wait? That's not all! They're also performing at Irene's - just like in the photo above, with
Mississippi Grover
and
The Von Drats
on April 4. In other cheery news,
Cannibal Corpse
is going to be at Babylon with
Neuraxis
,
The Faceless
and
Obscura
April 22. That all clear?