Last night (and this morning) I went off to the Royal Oak at the Canal for Good2Go's New Year's Eve show. They also played the Royal Oak last New Year's, but I was working. The Oak is a snug little place - last time I was there it was for a coworker's going away party and it was called something else. The time before that it was called The Black Cat and I was probably in my teens. It's been quite a while since I've seen them perform as a band - back at their CD release show for
Accesorize
in September 2007, to be precise. I almost missed seeing them in 2008 at all, since I walked over, was on the Isabella St. bridge and realized I'd left my wallet at home. I grumbled back home, retrieved my wallet, and headed back in time for a half hour or so of 2008 rock. Then there was a vigorous countdown, a stirring rendition of
Auld Lang Syne
from Gilles, some cheerleading by a guy from Pembroke and a set of 2009 rock.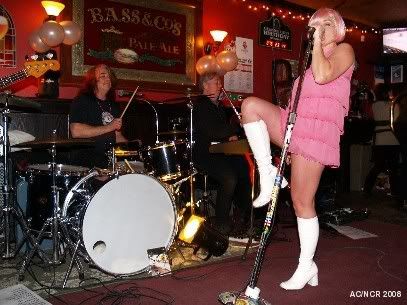 Good2Go, The Royal Oak on Colonel By, December 31, 2008
They did perform O-Train, which will hopefully become more topical in the days to come. I'm also hoping it warms up, because I nearly froze my face off walking home.