I start to itch when I can't get out to see live music regularly (at least once a week, please and thank you), so January is not a good month for me. Fortunately things have started to heat up a bit, with the first sprout popping through the snow being a free showcase gig at Zaphod Beeblebrox. Both
The Scarlett Fever
and King practice a form of rock a few shaded removed from my natural listening habits. I can imagine both being played regularly on the local commercial rock stations, if local commercial rock stations actually played local rock with any regularity. Scarlett Fever has been described as being influenced by Guns'n'Roses. I can't quite hear it myself in the music - not enough blues, too much alternative rock, not that there's anything wrong with that. But these guys do have their chops and put on a good show.
Here's guitarists Dave Doran and Tap Noonan. Note Tap's home-made guitar. I shot this photo and black and white because lots of red light and smoke make my pictures look unpleasant otherwise.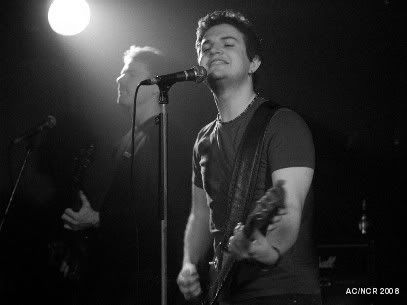 The Scarlett Fever, Zaphod Beeblebrox, January 12, 2009
Then there's King, a very tight combo (barring some tuning problems), which plays a charged up, reggae riddim rock. Here's Scott Reeves on guitar, bassist Erik Krisjansson and a bit of Alan Jagernaugth's drumstick.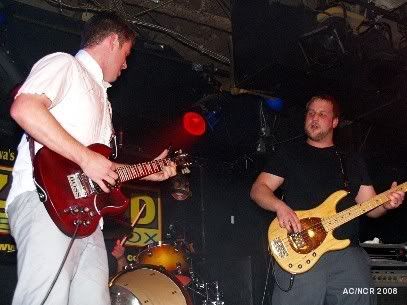 King, Zaphod Beeblebrox, January 12, 2009
More photos as soon as I have time to process them.