I've seen Matt Ouimet a few times playing drums for Sarah Hallman and once for Eric Vieweg, he's also got a resume boasting a dozen other names that should be familiar to anyone who follows the local music scene; he also plays bass and guitar and his dance card for the near future includes gigs with
Jehan Khoorshed
,
Jack Pelletier
,
Inglewood Jack
and of course Hallman. All that and he still finds time to do his own singer-songwriter thing.
First Steve Durand played a short but lovely set of acoustic folk-pop that put me in mind of Slowdive mainman Neil Halstead's solo work. The stage was a bit dark so this photo of him is extra-grainy.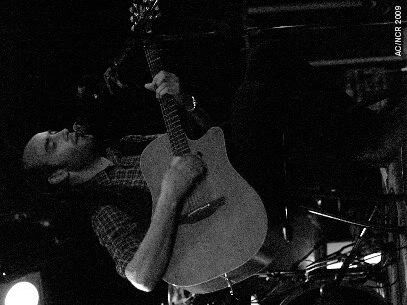 I feel like I've seen Meredith Luce's name in show listings several times, although the first time she's shown up in my show listings was back in April 4, 2007 ... on a bill with hockey rockers The Zambonis, oddly enough. Her set reminded me a lot of Ron Sexsmith - something in her phrasing or her voice, I guess. She had Eric Vieweg on board playing some twangy guitar and fraternal rhythm section Dean and Tim Watson. There seem to be plenty of songs about snow and one parting shot at "OC Transpoo" ... "That may be the first time I've said 'poo' on stage," she noted.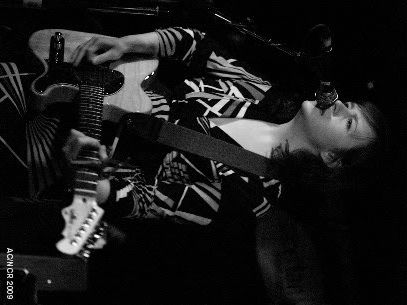 Finally Matt did his thing. He was in a pretty good mood and there was obviously a lot of friendly faces in the crowd - he interrupted one song to say hi to one arrival. Sarah Hallman also plays bass in his band, while Phil Bova plays drums and noted local guitar teacher Wayne Eagles handles the six strings.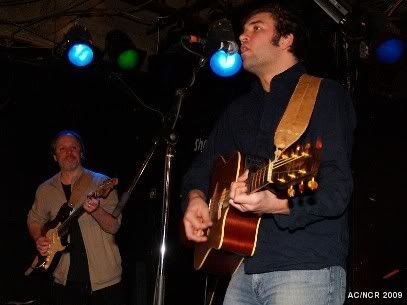 He started things off with a cover of The Beatles
I Need You
that he joked (well perhaps not) was the sound check. I'd classify his performance as rough but ready, cheerful and pretty entertaining.