Babylon was quite a busy place night: First Virginian rap duo Clipse played an early set, then power poppers aplenty played till the wee hours. I think it's time to officially declare power pop the next big thing in Canadian music, what with combos like Statues, Sonic Avenues and Mother's Children running about. Two of those three bands were on stage last night, opening for Magic Christian, a band whose members have done a lot to inspire the current pop crowd.
First up we have Rickenbacker loving combo Sonic Avenues, who can really crank out the 1970s power pop. A bit Buzzcockian, I'd say. Sebastien Godin, at left, handles lead guitar, Maxime Desharnais sings and plays guitar (what appears to be a Ric guitar neck bolted on to a Ric bass body, J.C. Niquet handles the skins and Jamie Desjardins plays bass.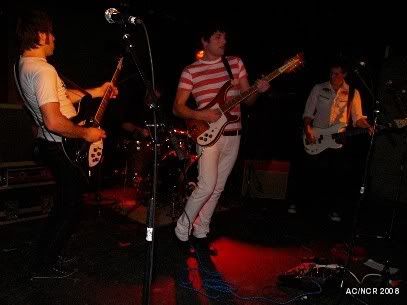 Sonic Avenues, Babylon, January 17, 2009
Next up were Ottawa's own contribution to the pop explosion rocking the Canadian landscape from coast to coast (I'm sure I read that somewhere). They put a 1960s Brit rock twist on the power pop formula, as evidenced by some of the Stonesy sounds they emit - a holdover from their Sick Fits past - and a cover of The Kinks'
Til The End of The Day
.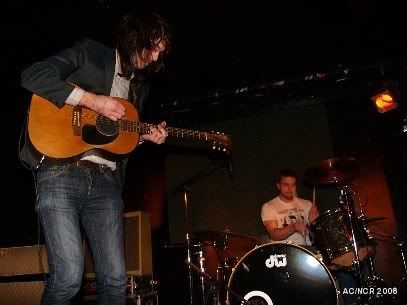 Mother's Children
, Babylon, January 17, 2009
Finally Magic Christian took the stage. The band was convened by music fan Paul Kopf - that's him wielding the tambourine - and former Flaming Groovie Cyril Jordan, and includes Blondie drummer Clem Burke and Plimsoul Eddie Munoz on bass. They do dig that 1960s rock sound. The played The Who's
Out In The Street
, and their own
The Real Thing
works as an homage to The Blues Magoos
Down By The River
. The loudest audience acclaim came for covers of the Groovies'
Teenage Head
and a show-capping
Shake Some Action
. Eddie Munoz tried to drag a second encore out, but the rest of the band weren't having it, alas.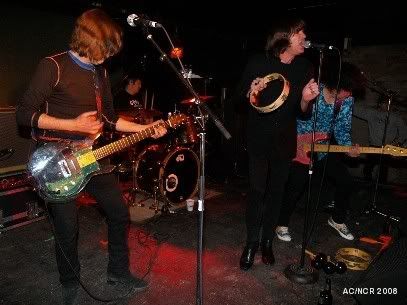 Magic Christian
, Babylon, January 17, 2009



Brief sets, but satisfying.