It's just a couple of days before Christmas, not a creature was sirring 'cept some punks. Critical Convictions and Fucking Machines rocked the Bytown Tavern with some political and non-political hardcore. First up, them Convictions.
The whole lot! Bassist Jeff, Richard on drums, singer Maxx and guitarist And.
Jeff was dressed awfully snugly.
Critical action!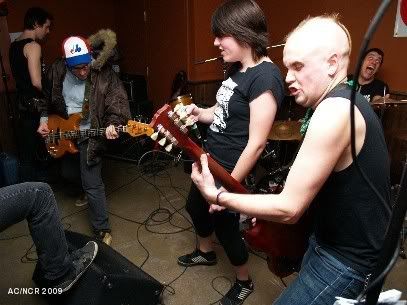 Richard prepares to hit, and also answers the boxers vs. briefs question.
It really wasn't that cold in the Bytown.
And sings!
Maxx sings upright!
Maxx sings upside down!
Convicted action!
Big finish!
Ignore those kidders who say they play slow. Their next show is at Mavericks January 16 with The Suppositories and Fucked Up.