My larder is bare, so let us leap in the wayback machine to a time when lucha- mask-wearing instrumental bands stalked the land. I speak, of course, of 2004. You had your Bomboras, your Man ... Or Astroman? Shadowy Men on A Shadowy Planet, masked men The Tijuana Bibles, Huevos Rancheros ... locally we had the Astrobillies, Polaris and sundry others. Heck, we still have The Flaps and The Empiricals and I reviewed a new Ramblin' Ambassadors CD just a short while ago but it does seem, there are fewer folks making instrumental music in the vein of Dick Dale, Link Wray, Davy Allen, Ventures, and all those Cali bands comped by Sundazed. So to make a long story short, here are a few more Bluesfest pictures, this time of Los Straitjackets on the Birdman Stage when it was stationed byt the old city hall. Using their DiPinto guitars, of course!
Eddie Angel, the man in black (with a few gold highlights).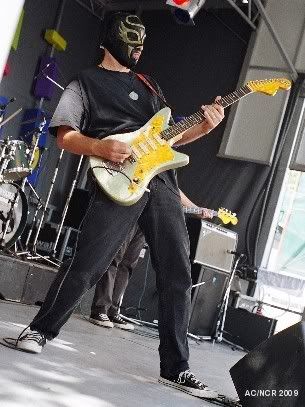 Bassist Pete Curry and Danny "Daddy-O Grande" Amis.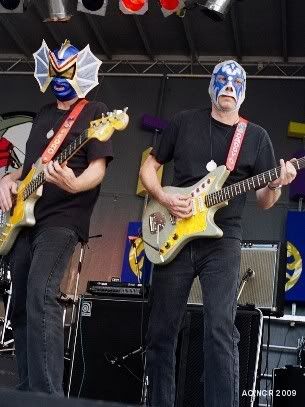 Staring action!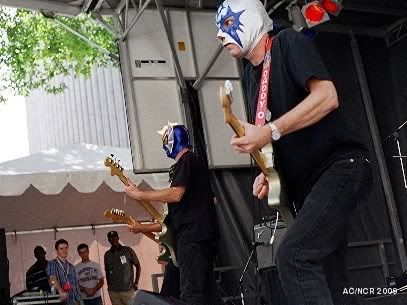 Rhythm section action with Jimmy Lester (who left the following year, to be replaced by Jason Smay) and Curry.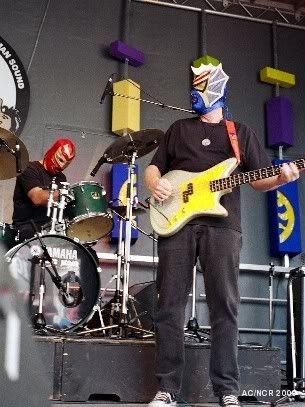 Twangy action!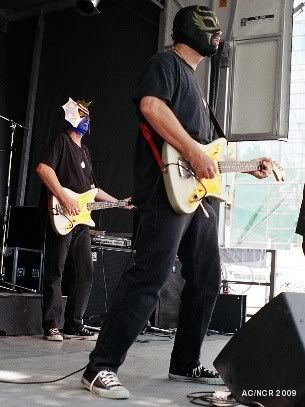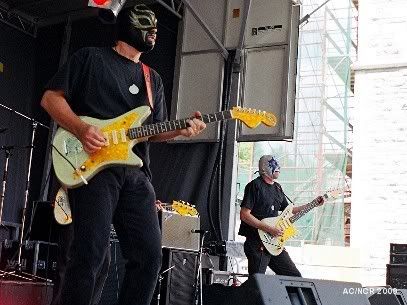 Lest you think Los Straitjackets have hung up there masks, fear not! They're on tour in February - a show in Spain and a handful of dates in Italy.