So many things to see last night, but in the end I plumped for
Rock Plaza Central
. It would have been to see The John Henries, but due to a chain of events involving a misplaced Iranian and bombs in Thailand I ended up getting out of work too late to get to anywhere but Irene's in time to see anything. I seem to recall Rock Plaza Central has been lumped in with collective acts like Broken Social Scene - something to do with having more than six members and being from Toronto, I guess - but they made think more of Chad VanGaalen, Neutral Milk Hotel, the various Palace acts, The Mountain Goats and Ottawa's own Golden Famile.
Here's some but not all of them.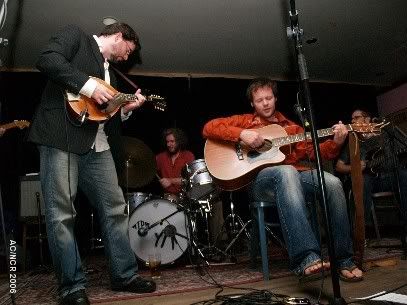 You'll just have to wait to see the other three.
Show reminder: Ball and Chain have found a new home for their annual Hank Williams tribute - the very same one pictured above! So go to Irene's tonight and see them, the Wreckers, and some guests honour the greatest country singer of them all. Various Australians - 72 Blues, 84, Fire Underground, Late Nite Access, Mihirangi and Lindsay Phillips - perform at Zaphod Beeblebrox. Asobi Seksu perform at Babylon.