I enjoyed Shout Out Out Out Out's show last Wednesday - what with all the high kicks, drumstick twirling, "Holla!" and other on-stage hijinx it was certainly a fun visual spectacle. The music was good too. The band's brutalist punk disco didn't have the audience jumping quite as much as I expected, but the crowd was certainly vocal in its appreciation.
Camera! Action! Lights!
Out out out out action with Nik 7! Sorry, I don't know what happened to Niks 1 through 6. Bassist Jamie Wolfskin spaces out on the low end.
Drummers Snarf and Gravey, shown in a rare no-stick-twirling moment.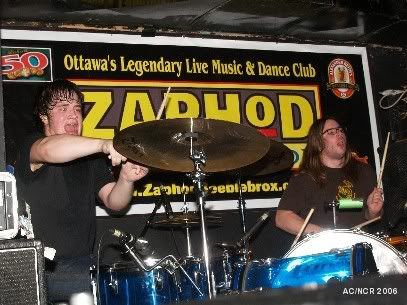 Whitey Houston - "That's not a hat, it really is his hair!" - says Nik 7. And note stick twirling at back!
Nik shows he's got sole. Jaycie Jayce on the keys.
More kicks! More lights!
It's gettin' sweaty! (Okay, so it already was sweaty ....)
Nik 7 gives his best mad scientist laugh.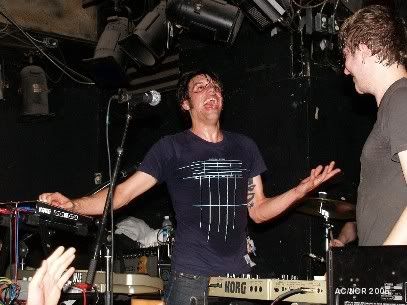 Bass action with Nik and Jamie!
Some audience touching.
Closeup bass action!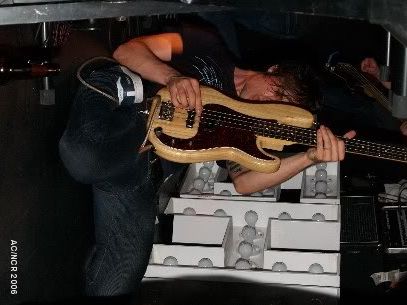 The hair-shaking finale!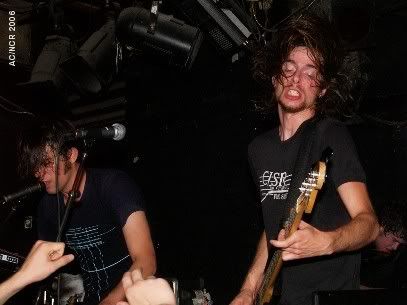 That was good fun, if a bit overstuffed.